Posted on June 25th 2009 in
Artists
On Saturday, Argentinian animator and cartoonist Jaime Diaz passed away at the age of 72. Diaz founded the Jaim Diaz Studio in 1975, an art and animation studio in Buenos Aires, Argentina, that became a large supplier of Disney comics (S-coded stories) for foreign-market Disney comics from 1975 to 1989 and also for the Disney Comics books in the United States in the early 1990s, for which they produced material for Rescue Rangers, Darkwing Duck, DuckTales and several other series. Over the years the studio created over 1500 Disney comic stories (see index).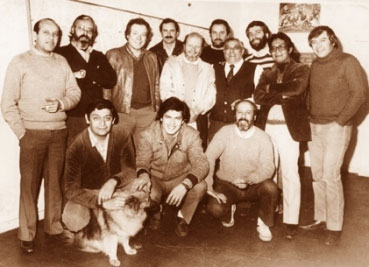 Jaime Diaz Studio staff photo from 1984
Bob Foster, who worked with Jaime Diaz as managing editor at Disney Comics from 1990 to 1992, commented the following on a post at Cartoon Brew:
"He represents all there is to love about people in the cartoon business. […] When I worked with him at H-B in the early 70s, I was always amazed at how his stuff just gushed from the tip of his pencil and onto the paper like water. […] When I was managing editor at Disney Comics, Jaime's studio in Argentina produced countless pages of great comic art that was always on model and rarely required any tweaking. Jaime always knew what was needed, got it done, and delivered it on time.
(
Source
)
Related links:
• RIP: Jaime Diaz (The Beat)
• A Fallen Companion (Mad Animation Profit)
• Jaime Diaz (1937-2009) (Cartoon Brew)