Posted on October 17th 2014 in
Publishers
,
United States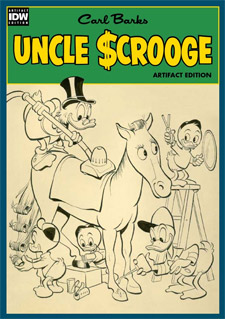 Over three years since BOOM! Studios stopped publishing monthly Disney comics in the United States, another publisher has finally stepped up to the plate. IDW Publishing recently announced that beginning in 2015 fans can expect to see the first wave of classic Disney comics in English return, with 'multiple monthly series' featuring Mickey Mouse, Donald Duck and many more.
IDW CEO Ted Adams said: "There's nothing quite like Disney. Despite the fact that nearly all of the titles in its library were originally intended for kids, adult collectors have long sought high quality and regularly published collections of classic Disney material. IDW is thrilled to present these beloved stories in quality packages for both entry level comics readers and serious collectors alike."
Beside the monthly series, the announcement also mentions IDW's award-winning Artist's Edition line, which are over-sized collections showcasing original artwork reproduced at full size. The publisher will be producing some new deluxe Artist's Editions featuring artists like Carl Barks and Don Rosa, with original art, signature plates, and unique display designs.
In addition, the Micro Comic Fun Packs that IDW launched this year will also be expanded to include Disney's properties. These small packs contain mini comics, stickers, posters and more.
This is all very exciting. Are you looking forward to IDW's new line of Disney comics?