Posted on January 15th 2006 in
Disney comics
,
Europe
,
New Titles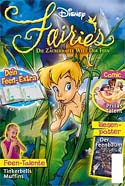 This week Egmont Ehapa in Germany launches the new title Disney Fairies.
The first issue of this new monthly series comes out on 17 January. The artwork of the series is based on the children books from Gail Carson Levine. Disney Fairies takes the reader back to the land of Tinkerbell, Neverland, in a series of new fairy tale stories.
The magic magazine is targetted at girls aged 7 to 9. The first 44-page issue (sold for €2,70 in Germany) had a printrun of 140,000.