Posted on February 11th 2006 in
Disney parks

Times Square in New York City will be transformed into the legendary Mount Everest on 15 and 16 February, celebrating the newest addition to Disney's Animal Kingdom in Florida: Mount Everest.
A 57-story spectacular will bring the Himalayas to life, with powerful avalanche effects, daytime pyrotechnics and the ferocious roar of the yeti, plus world-renowned aerialist acrobats performing a never-seen-before display of vertical acrobatics.
The two-day show, "Everest in the City," will take place hundreds of feet above Times Square to celebrate the launch of the thrilling new Walt Disney World attraction Expedition Everest, grand opening in April at Disney's Animal Kingdom.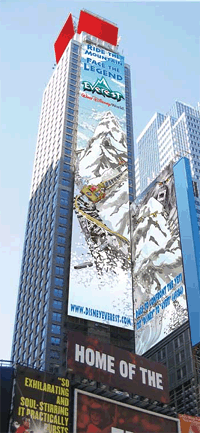 Project Bandaloop, featuring the world's most creative aerial acrobats, will fly through the sky as they perform off a pair of towering billboards spanning two skyscrapers at Broadway and 47th Street. Serving as the dramatic backdrop, the billboards feature a runaway train racing through snow-covered mountains, just narrowly escaping the wrath of the fearsome red-eyed yeti, legendary protector of the Himalayas.
The brave climbers will face the wintry elements as they navigate the mountain while performing an exhilarating acrobatic ballet accompanied by an original musical score. New Yorkers and visitors to Times Square in February will have the chance to view the incredible mountain billboard.
To broaden "Everest in the City" beyond a traditional billboard, Walt Disney World Resort partnered with industry leaders including Sylvania, Hip Cricket and AOL. Sylvania gives the yeti his glowing red eyes using the new OSRAM LED-powered light technology. Each of the yeti's two 30-inch-diameter eyes will be lit with six OSRAM DRAGONchain? LED modules, making the fearsome protector's glare visible from hundreds of yards away.
While Sylvania is responsible for giving the yeti his eyes, Hip Cricket will control their stare. Thanks to technology provided by Hip Cricket, visitors to Times Square can use their wireless phones to interact directly and in real time with the yeti by texting the word DISNEY to the short code "4YETI", which will make the yeti's eyes flash at a specific time.
For anyone not able to view the spectacular show in person, AOL will feature the event. Visitors on AOL also can enter an online contest that will award 25 lucky visitors to the site a trip for four to Walt Disney World Resort to experience an exclusive tour of Expedition Everest.