Posted on February 3rd 2006 in
Disney comics
,
Europe
,
New Titles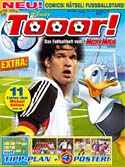 Ehapa in Germany launched a new magazine in January: Tooor!. It focuses around the FIFA World Cup 2006, which starts in Germany on 9 June.
The 70-page magazine is targeted at 8 to 14-year old Disney and football fans. It has many soccer-related editorials, including player portraits, highlights of the World Cup, tips from football professionals, and much more.
In addition there are soccer-related comic stories featuring Donald Duck, Goofy and Mickey Mouse.
The first issue came out on 26 January 2006 and had a print-run of 300,000. It sold for € 2.50 in Germany.
You can view a German TV commercial for Tooor! on the Ehapa website.
Related links: