Posted on April 13th 2006 in
Disney comics
,
Europe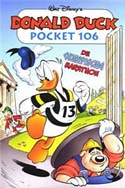 Due to the tremendous success of the 256-page Donald Duck Pocket and 512-page Donald Duck Dubbel Pocket, Dutch publisher Sanoma Uitgevers has decided to increase the number of books published each year.
Until now, Sanoma published 8 issues of the regular pockets, and 2 issues of the double-sized pockets per year. These numbers will soon be increased to 12 and 4 respectively, bringing the total to 16 pocket books per year, encompassing over 5,000 comic book pages!
The Dutch pockets are exact copies of pocket books compiled by Egmont in Denmark (Jumbobog), Finland (Aku Ankan Taskukirja), Germany (Lustiges Taschenbuch), and Norway (Donald Pocket). In the past, the Dutch publisher used only about 3/4 of these Egmont pockets, which means that Dutch readers missed out on a lot of stories.
But, with this change the Dutch publisher will bring out more pockets per year than Egmont's annual production, so they will be able to start releasing the backlog of pockets that have never been published in the Netherlands before.
Source: Thanks to Harry Fluks through DCML