Posted on April 24th 2008 in
Disney comics
,
Italy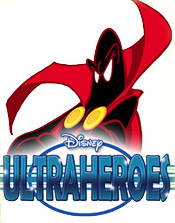 Disney Italy continues to make impressive new and original stories. Last year saw the release of Wizards of Mickey, a new world of wizards, castles and bewitched lands created by Claretta Muci and Stefano Ambrosio starring Mickey, Goofy and Donald. That 10-part series has since been reprinted across Europe. In February 2008, weekly Topolino started another multi-part series in issue 2726: Ultraheroes.
Ultraheroes ran for nine issues and featured all the superheroes of the Disney comics universe in an epic clash against the super villains to determine the faith of the world. Those Italians sure know how to make exciting stories. The series was written by Giorgio Salati and features beautiful artwork by Ettore Gula and Roberta Migheli.
All 9 stories can be downloaded in PDF format from the official website. I really like how Disney Italy uses the internet to promote their comics and stories and even make them available for download. I haven't seen any other Disney publisher do this (if you know one that does then please let me know). Wizards of Mickey had an especially impressive website (www.wizardsofmickey.com).
Unfortunately I can't read Italian but the artwork of Ultraheroes looks great. I can't wait to read this series in a language I understand.
Here are some sample pages of Ultraheroes: