Posted on August 7th 2008 in
Americas
,
Websites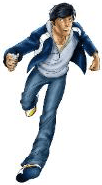 Here's some exciting Disney comics news: Stan Lee, the creator of Spider-Man, X-Men and Iron Man, is teaming up with Walt Disney Studios Home Entertainment to produce a revolutionary new concept in comic book format: Time Jumper. According to the press release: "Time Jumper will become the industry's most ambitious digital comic book series ever designed to release on multiple platforms."
Disney also announced an extension of the deal with Stan Lee's POW Entertainment Inc. that covers all forms of media from movies and television, to publishing, games, the internet and mobile-web.
Stan Lee said: "I am honored to be in association with Disney, not only through the extension of our original deal, but also in breaking ground by creating a new superhero, that is destined to bring his own brand of thrills and adventure to so many varied forms of story telling as only Disney can provide them". Lee continues, "Our "Time Jumper" is more than a typical superhero. He's a trend-setting breakthrough across all media; a hero for today's digital age and tomorrow's multiplatform entertainment."
Read more about the deal here.