Posted by
Arthur
in
Americas
,
Disney comics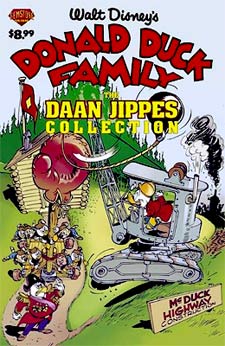 Scoop is reporting the release of a great new series by Gemstone Publishing in the United States. The first book in the Donald Duck Family: The Daan Jippes Collection Vol. 1 is out now
! It features the first five Junior Woodchucks stories that were written by Carl Barks and drawn by talented Dutch Disney artist Daan Jippes.
Legendary duck artist Carl Barks created 24 pencil-scripts after he retired in 1969. These stories have been completed by Daan Jippes in a style faithful to that of Barks. Jippes started drawing the stories in 1992 and has just recently finished the last few, which have already been printed in Europe. Americans can now enjoy these beautifully crafted stories, featuring Donald's nephews Huey, Duey and Louie as the Junior Woodchucks, in this new series. You can order the first volume of the Daan Jippes Collection on Amazon for just $8.99
.
September 15th 2008

|

8:19 pm CET

|