Posted on December 4th 2008 in
Carl Barks
,
Disney comics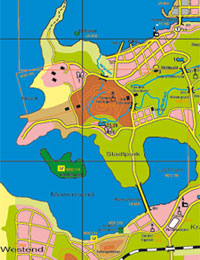 German Donaldist Jürgen Wollina has released a map of the fictitious town of Duckburg that he has worked on for the last 13 years. Every detail on the map is based on something from a Carl Barks comic book story. Carl Barks wrote and drew thousands of pages of Disney comics from 1942 to 1966 and created Duckburg as well as Scrooge McDuck, the Beagle Boys, Gladstone Gander and many other characters. Donaldists are fans and collectors who research Disney comics and those stories by Barks in particular.
According to this recent article in the German newspaper Die Zeit, Wollina joined D.O.N.A.L.D. (an organization of Donaldists in Germany) in 1994 and shortly after that started work on the map of Entenhausen, which is how Duckburg is called in Germany. He was 47-years-old at that time. The map, which is based on hundreds of stories by Carl Barks, contains all famous places in Duckburg. These include the home of Donald Duck, Daisy Duck and Gladstone Gander, as well as the money bin of Uncle Scrooge and many other landmarks. All street addresses, names of bridges, train stations, statues, post offices and other landmarks have been meticulously taken from Barks' hundreds of stories.
You can find more information about the map (in German) on the D.O.N.A.L.D. website where you can also order a printed copy.
Click this map to see the large version: