Posted on January 26th 2009 in
Exhibits
,
France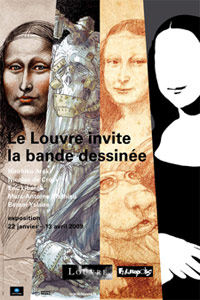 Comic books as an art form are finally getting the recognition they deserve at the most famous and prestigious museum in the world.
Starting this week, the Sully wing at the Louvre in Paris is home to a special exhibit for comic book fans titled Le Louvre invite la bande dessinée ('The Louvre invites comic strip art'). Mona Lisa will get some company in the form of Asterix & Obelix, Tin Tin, and many other popular French comic book characters.
The exhibit runs until April 13th and features original artwork by Nicolas de Crécy, Marc-Antoine Mathieu, Éric Liberge and Bernard Yslaire.
(via Scoop)