Posted on March 11th 2009 in
Anniversaries
,
Denmark
,
Disney comics
Denmark's Donald Duck weekly Anders And & Co, which was launched in March 1948, turns 60-years-old this month! The popular magazine celebrated its anniversary with a golden cover of the 9th issue and a special competition.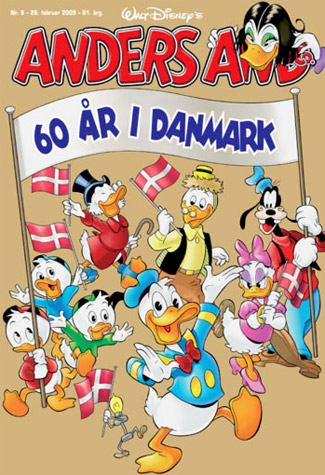 Anders And, today published by Egmont Serieforlaget, was originally launched as a monthly magazine, printing stories from the United States by such artists as Carl Barks and Al Taliaferro, but the magazine turned bi-weekly in 1956 and weekly in 1958. This meant that the publisher had more pages to fill, so Egmont decided to start creating their own stories. Now Egmont Creative, located in Copenhagen, is the world's most productive source of new Disney comics. Their stories are used in all of Egmont's Disney titles internationally and are also sold to non-Egmont Disney publishers for use in other countries. Today, Anders And & Co prints stories produced locally as well as internationally.
"Everyone knows Donald Duck and has an opinion about him. People have grown up with him and we hope that this magazine will evoke childhood memories," says Thomas Bundgaard, marketing manager of Serieforlaget in Denmark. (source: 60 year anniversary for Donald Duck and Co)
Katja Haargaard, sub-editor of the magazine, adds: "We hope that this magazine will make some of the former readers rediscover the magic of Donald Duck and Co. Donald Duck is a big part of everyday life – also for a lot of the employees at Egmont. You can see yourself in him, both when he is angry and happy and you always want to join him in his adventures."
Egmont Serieforlaget celebrated the anniversary at the end of February by sending out cake to the media and by having competitions on the magazine's official website, andeby.dk (Andeby is 'Duckburg' in Danish).
In 2006, Anders And & Co had a print-run of 90,000 and an average readership of 525,000, which is approximately 10% of the population of Denmark.