Posted on March 4th 2009 in
Don Rosa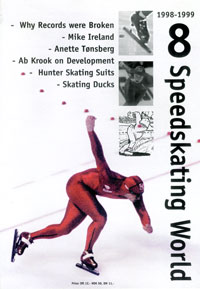 In 1998, Disney comic book writer and illustrator Don Rosa drew a story about speedskating for Dutch (but English-language) magazine Speedskating World. The story is titled The Annual Speedskating Race of the Burg of Ducks and was written by Norwegian professor of mathematical statistics at the University of Oslo, Nils Lid Hjort, who is also a Disney comics fan and has edited two books with the works of Don Rosa.
The two-page story was made specifically for the Speedskating magazine and has, as far as I know, not appeared anywhere else. It was printed in black-and-white, which really brings out Don Rosa's beautifully detailed artwork, and extra large at two (sideways) rows per page. I was lucky to obtain a copy of the magazine back in 1998 and have scanned the two-page story below.
Magazine editor Irene Postma wrote the following introduction:
On the following pages you will find a special little extra. Well, little … the artist of this story is no-one less than Don Rosa, the successor of Carl Barks at Disney. He has drawn a row of albums on Scrooge McDuck. And here is a story exclusively for us! Although neither Scrooge nor his relatives had ever been caught speedskating, the link was already there with Ådne Søndrå, referring to himself as the Donald Duck of speedskating, and of course to Atle Vårvik, who once upon a time skated in an aerodynamic suit having a striking resemblance to a Duck's appearance. No wonder then that this story was also written by a Norwegian. But of course, as no names are mentioned here, we will never know if Donald really knows much about skating…
The copyright of this story lies with the author and artist. You won't find any Disney names or Disney characters in this story, just some funny cartoon animals.
Rosa fans will be happy to know that there is a D.U.C.K. dedication in the first panel. Can you find it?
Page 1 of 2 (click to embiggen)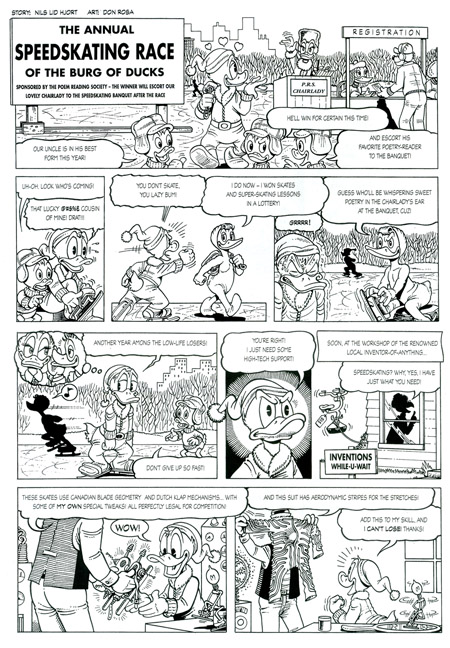 Page 2 of 2 (click to embiggen)