Posted on April 1st 2009 in
Carl Barks
In a story that has Disney comics fans around the world buzzing with excitement, a collector in Italy has uncovered what he believes is the original artwork of Carl Barks' lost Golden Apples story from 1952. Olaf S. Pirlo, a life-long collector and afficianado of Disney comics, in particular the art of famous Disney artist Carl Barks, was able to obtain several boxes with archived material from the offices of Western Publishing in California, for which Barks worked for three decades. The Golden Apples story is to be published in a special collector's book in Italy this summer and is expected to be picked up by other Disney publishers across Europe later in the year.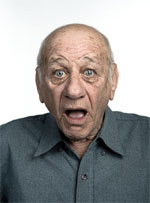 Olaf S. PirloThe Italian book with Barks' Golden Apples story will be released as a limited edition and numbered hardcover album, as well as a cheaper paperback book. "I have been searching for this story all my life," commented Pirlo, "and I want to share it with fellow fans of this great artist." He also added: "I have decided to provide publishers with free copies of the artwork but have insisted that it be published in my home country first."
Pirlo said that the artwork contains documents with the actual title of the story, but is not ready to reveal it just yet. Barks referred to the story as "the one about the golden apples", but the actual title has been unknown to fans for all these years.
The 10-page Donald Duck story was supposed to be printed in the September 1952 issue of Walt Disney's Comics and Stories #144, but was scrapped by story editor Chase Craig at the publisher's branch in Bevery Hills. The plot is loosely based on the Greek mythology of The Apples of the Hesperides and takes place during Duckburg's annual apple festival.
In a 1974 interview with Michael Barrier, Barks explained: "I can only recall that I had Daisy quite angry with Donald because he was trying to win the hand, I guess, of this queen of the apples festival … Daisy was so jealous that she was throwing things at Donald and was not acting lady-like … That was the only excuse they ever gave me for cutting it".
What happened to the story had been a mystery for over fifty years, until now! The discovery of the original artwork by Olaf S. Pirlo is an exciting find, and as a fan and collector of Disney comics I am really looking forward to see this 'new' Barks story. I for one can't wait to see it.