Posted by
Arthur
in
Publishers
,
United States
Columnist Rick Johnston at Comic Book Resources is reporting that Boom! Studios in the United States has picked up the Disney license that Gemstone Publishing lost earlier this year. This is definitely not an official statement and the page is sort of a rumors column, but if this is true it is some great news!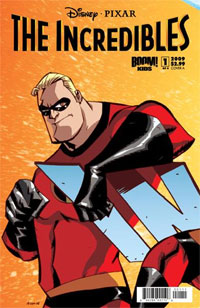 Earlier this year Boom! Studios obtained the license to publish comics based on characters from Disney/Pixar's animated feature films. The first issues of these new comics hit newsstands in March, including a Cars and The Incredibles series.
Now this young publishing company (founded in 2005) may add Disney's classic characters to its line-up, which reportedly will include: Walt Disney's Comics & Stories (a monthly comic that started in 1940 and by the mid-1950s became the best selling comic book in the US), Mickey Mouse and Donald Duck (both ended in 2006 already), Don Rosa's The Life and Times of Scrooge McDuck (out of print for a while but still in high demand) and more.
Last time it took over four years for a new publisher to pick up the Disney license. Gladstone's run ended in February 1999 and it wasn't until July 2003 that Gemstone continued publishing Disney comics in the United States again.
I so much wish that this news is true and I hope that all the good people that lost their job at Gemstone earlier this year will be able to continue doing their great work at this new publisher as soon as possible. I'm keeping my fingers crossed!
Source: at Comic Book Resources here (via DCF)
May 27th 2009

|

9:30 pm CET

|