Posted on May 10th 2009 in
Interesting Links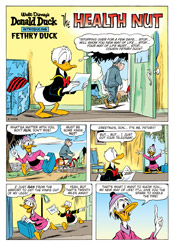 In a recent post on his Prehistoric Pop Culture Blog, David Gerstein talks about the first appearance of Fethry Duck, Donald's cousin and "Duckburg's most highly motivated citizen". The character was created by Dick Kinney and artist Al Hubbard for a 1964 story titled "The Health Nut" (still available here) and David has published some rare sketches that Kinney created for the story. The artwork was discovered several years ago in a previously lost box at the Disney studios.
David Gerstein is a professional historian, writer, editor and graphic designer and he was the archival editor at Gemstone, former publisher of Disney comics in the United States. Prehistoric Pop Culture Blog is a great blog for anyone interested in old-time cartoon, comics, and music discoveries.
For more Disney-related blogs check out the links page.