Posted on May 2nd 2009 in
Germany
,
New Titles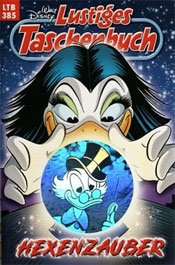 Ehapa, publisher of Disney comics in Germany, has recently announced that it is planning to launch an English version of its hugely popular Lustiges Taschenbuch. The 256-page books feature 3-tier Italian and Danish Disney comic stories starring Donald Duck and Mickey Mouse. Not much is known about the new English title, but the chief editor wrote in a German forum this week that the English version of the pocket books will launch on July 1st and will contain only stories that have already previously been published in Germany.
This is great news for all those people saddened by the loss of English Disney comics after the news that Gemstone Publishing in the United States has (for now) ceased publication. I wonder if this is in some part a reaction to that news; surely there is a huge market for English Disney comics and this is a great start.
The German version of Lustiges Taschenbuch, which was launched in 1967, is a newsstand title, but the new English version is expected to be available by mail order to people outside Germany. Information on pricing or how to subscribe is not yet available. I will publish that information here as soon as it becomes available.