Posted on June 22nd 2009 in
Publishers
,
United States
Newsarama has some more news about the Disney comics from Boom! Studios that will come out in September. They spoke with the publisher's co-founder Ross Richie, who confirmed that Boom has indeed acquired the comic book license for comics with Mickey Mouse, Donald Duck and the gang (yah!). They will begin publishing the new titles through their Boom! Kids imprint.
Richie said: "The Gemstone material that was being printed most recently are some of the greatest comics in the world – you're talking about Carl Barks and Don Rosa and all these incredible creators, but what we're going to be doing is branching off and going in a completely different direction. We're going to start to approach the Mickey and Donald material from a completely different direction, and we're going to try to have something that at the same time is less the 'greatest hits' reprints and more dovetails into what the Boom Kids stuff is, which is sort of an add to and extension of, modern presence creative take on these classic characters that I think can connect with kids today."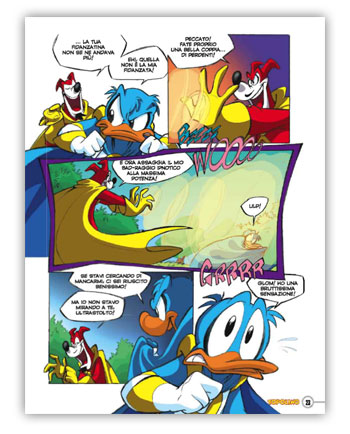 Above: a page from Ultraheroes, a multi-part series from Italy that will be published in the first few issues of the new Walt Disney's Comics & Stories to be released by Boom! Studios starting in September
Boom does plan to print the type of stories that Gemstone has been publishing over the years, adding: "We will be handling the classic material. We're not going to abandon the fans that are buying that material, so we will have programs and products for them."
"Our first solicitation is for Mickey Mouse and Friends and Walt Disney's Comics and Stories," Richie said. "Disney comics are some of the longest-running comic in the history of comic book publishing, and Comics and Stories I believe, is the longest-running series behind Action Comics and Detective Comics. Our first issue of Walt Disney Comics and Stories will be #699, which is kind of humbling legacy to pick up when you have a comic book company that's only four years old. To be entrusted with that sort of thing, it's obviously something that we're looking to handle with the most respect and intensity that we can. I think the Mickey stories that we're putting together are really going to surprise people. It's very fresh and cool and is going to be a lot of fun."
Phew, I'm glad that Boom is not totally abandoning the traditional style of Disney comics that are still so popular in Europe. They plan to print 'classic' material, but what does that mean? Classic as in old Barks stories that have been printed in the US before, or new stories from Europe that have been written/drawn in the classic Barks style? They make it sound as if Gemstone only gave us reprints, while in fact the bulk of the material Gemstone printed were European stories new to the United States. I've always thought Gemstone did a more than excellent job picking out some of the best work from the thousands of stories that have been created in Holland, Denmark and Italy over the last 60 years. I sure hope Boom knows what they're doing.
Further announcements about other Disney titles will be made by Boom! Studios at the San Diego Comic-Con in July. Will they release the Don Rosa library and Carl Barks library that Gemstone was planning? I can't wait to find out.