Posted on June 12th 2009 in
New Titles
This month, Dutch publisher Sanoma Uitgevers has launched a new men's magazine called DONALD, targeted at adults. The new 154-page glossy magazine features articles about lifestyle, cars, sports, gadgets, travel and more, as well as comic stories with Duckburg's famous duck.
It is no secret that many grownups across Europe read Disney comics every week; being subscribed to the local weekly Donald Duck or Mickey Mouse comic is a tradition that is deeply rooted in local culture. Making a magazine just for adults makes sense, and I applaud the publisher for trying this out.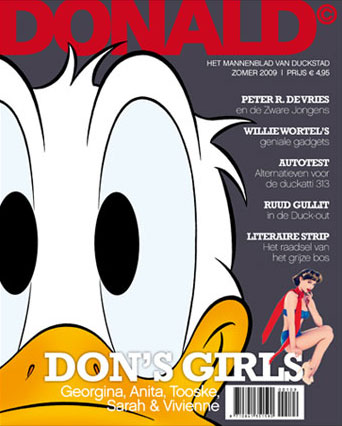 The glossy "Men's Magazine from Duckburg", as stated on the cover, comes out this month and sells for €4.95.
Unfortunately I don't have a copy yet, but I did find the following pages online (click to embiggen):

(the section on the last page is titled "Gyro Gearloose's Science & Gadgets")