Posted on June 26th 2009 in
Germany
,
New Titles
,
Publishers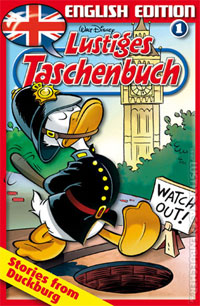 Last month I wrote about the new English-language version of Lustiges Taschenbuch that Ehapa Verlag in Germany plans to launch on July 1st. I had read reports at the time that the 276-page comic would be available outside Germany, but it seems that this is not the case, at least for now.
I received an email from someone at the communication department at Ehapa who wrote that, for the time being, the English edition of Lustiges Taschenbuch will not be available to order outside Germany. However, I was not the first one to express interest in getting the books and they are actually thinking about alternative ways to distribute the new title through channels such as Amazon.
The main reason for publishing the new English-language Disney comic in Germany is not to enter the international market, but rather to bring local children in contact with the English language at an early age as English becomes ever more important as the world's lingua franca. Editor-in-chief Peter Höpfner commented that they are publishing the new English edition of Lustiges Taschenbuch because English is becoming more and more important as it gets taught as early as pre-school and elementary school and secondly, because access to learning another language becomes easier in comic books when words and images are combined.