Posted on July 16th 2009 in
Boom! Studios
,
New Releases
,
News
,
United States
BOOM! Studios has lots of paperback and hardcover Disney books coming out starting later this year, including ones with classic Carl Barks stories and a reprinting of The Life and Times of Scrooge McDuck by Don Rosa is slated for February. The publisher revealed yesterday that it will release its first Disney hardcovers at Comic-Con '09 in San Diego next week. Hardcover collections of The Incredibles: Family Matters, Cars: The Rookie and The Muppet Show will be available at a limited numbered set of 250 and writers Mark Waid, Alan Porter and Roger Langridge will be doing signings of these exclusive editions (see schedule).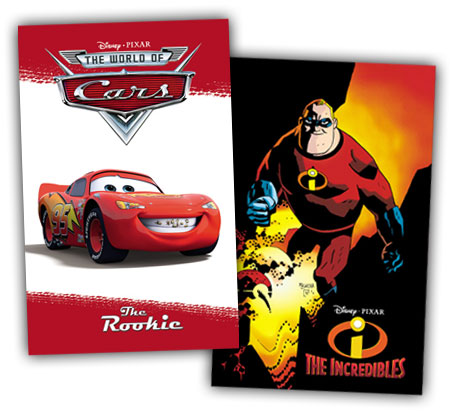 I recently got a couple of BOOM's hardcover books and I must say that I am very impressed by their quality. The books measure 7×10.5 inches and have a nice thick matte sleeve around a black leather-like hard cover which itself has the title and logo embossed in gold on the front and spine. The Farscape book (see pictures below) has 136 thick glossy pages with beautiful sharp printing. There's even a cloth bookmark!
I can't wait to get my hands on the hardcover books with classic stories by Barks, Rosa, Gottfredson and the like. I just wish that a Barks and Rosa library were in the works. It's going to be great to have stories by my favorite artists in gorgeous books like this, but I'd rather spend my money on a complete chronological series of all the work by these great artists, like a colored (and uncensored) Carl Barks Library. Let's hope these initial books do well enough for BOOM! to take on such a large project.
Here are some pictures of the Farscape book so you can see for yourself what the future Disney hardcovers will look like: