Posted on July 24th 2009 in
Digital Comics
,
Italy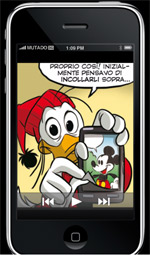 Disney comics are going mobile! Two Italians of the New Media division at Disney Publishing Worldwide in Milan are working on getting Disney comics pubished on digital devices. They're planning to launch Disney DigiComics in Italy and the United States some time between September and the end of this year and globally after that.
Gianfranco Cordara (writer of 100+ stories) and his colleague Dario Di Zanni started their idea last year when they developed a working demo of a Disney comic on their iPhone. They showed it to their boss in Milan, then went to Disney offices in London, New York and eventually to Disney HQ in California. After convincing the Americans of their idea the two have been working hard to get Disney DigiComics off the ground. The plan is to release traditional Disney comic stories in animated format to iPhones, iPods, other mobile phones, Nintendo DSi, Playstation Portable and regular computers. Consumers will be able to purchase stories as they do music on their iPod through a digital comic store (similar to the Apple Store) and play them in a special Disney DigiComics player on their device.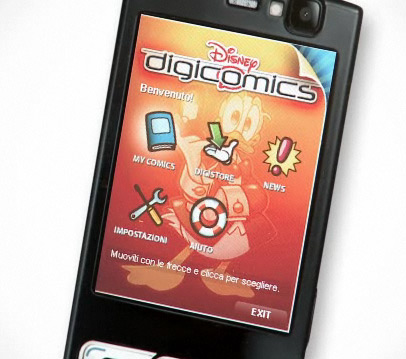 Serving traditional comics through new media like mobile phones is not new. GoComics was started back in 2006 and last February Marvel Entertainment announced plans to release their Motion Comics (with enhanced animation and audio) via iTunes. The Walt Disney Company Italy has also had digital Disney comics on their website Disney.it for a while.
Want to see a demo of these Disney DigiComics in action? I've found two: there's a video interview with the creators on the Adobe Flash Lite website and a more interactive demo on Wired.it.
What do you think of this new development? Would you read Disney comics on your mobile phone?
(via DCF)