Posted on July 6th 2009 in
New Titles
,
United States
I picked up a copy of Disney twenty-three today at Barnes and Noble (where I was pleased to also find all of Boom's Pixar comics). I thought that the magazine was exclusive to members of the D23 community, but apparently they also sell it to regular people. It's a huge magazine (11 by 12 inches) with 60 beautiful glossy pages full of large photos and interesting articles about everything Disney in the style of Disney Magazine (†2005).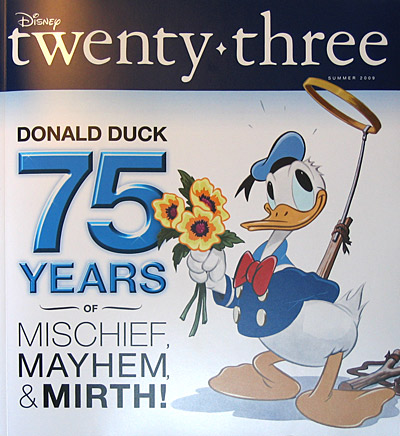 The cover story of the new magazine's second issue is about Donald Duck's 75th anniversary. There's a 10-page article covering his origins and cartoon career. Unfortunately, there's hardly any mention of Donald Duck in the comic books. The article basically skips all this and jumps right from the 1940s cartoons to his appearance in Fantasia 2000, the video game Kingdom Hearts and the Mickey's PhilharMagic attraction at Walt Disney World.
Carl Barks is mentioned briefly as "the artist who helped create many of Donald's best cartoons and went on to make the Duck an international star of the printed page with his masterful comic book stories."
The back inside-cover of the magazine does feature three vintage newspaper comics with Donald, Mickey and Bucky Bug.
More attention to the comic books is given on the website of D23 in this article about Huey, Duey and Louie, which was apparently written by comics writer and editor David Gerstein.