Posted on August 14th 2009 in
Boom! Studios
,
Interviews
Disney comics are back in the United States thanks to Boom! Studios, a relatively new publisher that recently landed the license for Disney Pixar's movie characters as well as Disney's classic characters like Donald Duck and Mickey Mouse.
Boom's first two Pixar titles, featuring all-new stories, were Cars and The Incredibles, which both hit newsstands in March 2009. The first issue of "Cars: The Rookie" sold out in one week and is now in its 2nd print-run. The Cars comics are written by Alan J. Porter with beautiful artwork by Albert Carreres (stories) and Allen Gladfelter (covers). I had the chance to ask Alan some questions recently about his work for Boom and his love for Cars.
Disney Comics Worldwide: How did you get involved in writing the Cars comic for Boom?
Alan J. Porter: I begged to do it! OK the serious answer, I already knew Paul Morrissey the editor on the BOOM Disney books as we had worked together at Tokyopop where he had published my manga story GOD SHOP. The day that BOOM announced the Disney*Pixar deal at San Diego Comic-Con in 2008, I found Paul and told him that I just had to write CARS. I pitched him a story idea there and then that he liked, so he asked me to send him some more story ideas after the convention. It seems that both Paul and the folks at Disney liked my ideas enough to give me the gig.
DCW: As a motorsports enthusiast, what do you think of the movie Cars?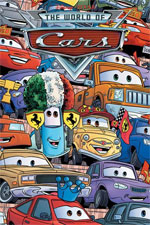 AJP: Actually let me answer that a slightly different way; as a storyteller I love CARS because it is such a multi-layered movie (like most of the Pixar ones), I have now lost count of how many times I've seen, or listened to, the movie and I never tire (no pun intended) of it. I think its central themes of friendship and tolerance are universal ones. OK as a gear head, I love all the references, some of which are so subtle that I'm only just starting to pick up on them after multiple viewings. But perhaps the best thing about CARS from the race fan's point of view is that it gets the racing right. It is perhaps the most accurate "racing movie" in terms of race craft, vehicle dynamics, and detail that has been done to date.
DCW: Is it difficult to write a story where the characters are cars and trucks as opposed to humans or animals? What sort of challenges did you have to overcome?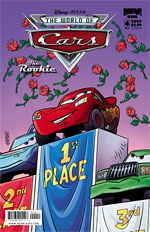 AJP: The first challenge was to get past the fact that the stars were two-ton boxes of metal and get to know them as characters. To do that I often put the movie on, then lie down on the sofa with my eyes shut and just listen to the dialog and the interplay between them, that way they come alive as characters. Once I have the character voices and personalities in my mind the fact that they are cars and trucks becomes incidental from an overall story telling point of view. However the biggest challenge comes in staging the action. All the action in CARS takes place in a horizontal plane, (while with humans and talking animals it tends to be in a vertical plane), so I have to bear that in mind. Allen Gladfelter, the excellent cover artist on CARS, told me he studies the way that dogs interact with each other as they have the same stance as a car; and you know, he is right. I also buy the die-cast models of any characters I am writing about, and stage the scenes on my desk to make sure they work – much to the amusement of my teenage daughters.
DCW: You were at the San Diego Comic-Con a few weeks ago. What was it like to sign at the Boom booth?
AJP: Signing the first CARS hardback collection at the BOOM! Studios booth was an amazing and humbling experience. I was overwhelmed by the enthusiasm of the CARS fans I met, and the many parents and kids who told me they enjoyed the book. The most humbling experience was when a parent told me that the CARS comics had been the one thing that had made her disabled son want to learn to read as he wanted to be able to follow McQueen's story.
DCW: The first 4-issue Cars story arc was a prequel to the movie. Can you tell a bit about the upcoming 4-part story "Radiator Springs"? What characters will it focus on?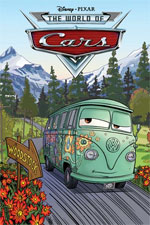 AJP: As you mention the second story arc will be called Cars: Radiator Springs and while it picks up after the movie, it is in its own way also a prequel. The basic idea is that McQueen is hanging out at Flo's with his friends and he gets them to tell him their stories of how they arrived in the town, and what made them stay as the town declined around them. The four issues breakdown as follows:
Flo and Ramone's story plus a couple of pages about Sally
Sarge and Fillmore
Guido and Luigi with one of Mater's Tall Tales thrown in. (By the way – this is the story I verbally pitched at San Diego in 2008)
Mater and the Sheriff
DCW: When writing the Cars comic, do you have to consider the upcoming second Cars movie that Pixar is working on?
AJP: I actually have no idea what is going to be in CARS 2. When I started the gig I was told that I couldn't include anything that would contradict events in the upcoming movie, but they wouldn't tell me what is in the movie. So I just write the stories I want, and if I do something I shouldn't they will tell me. I did have one new race car number changed by the approval folks at Disney so I wondered if I'd used one that may feature in Cars 2 – but I don't know for sure.
DCW: Are any other Cars stories in the works, and are you working on other comic projects at the moment, Disney-related or other?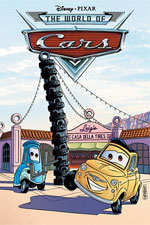 AJP: During San Diego we heard that we had approval for a third CARS story arc. This one is tentatively titled "Radiator Springs Rally" and is set after the movie and centers around a charity race in and around Radiator Springs that McQueen and The King organize. It will bring the two sides of McQueen's post-movie live together as the race track characters come to town. We have two other Cars story arcs still in the approval pipeline that if we get the go-ahead will be great fun to write, they are both Mater centric stories, and let's just say that his imagination gets the better of him.
As well as writing comics, I also write books about comics. My latest "STAR TREK: A Comics History" is due in stores in September, and I have another couple of book projects lined up to follow that, one on Buck Rogers, and one on the history of Cowboy comics .
I also have my own company, 4Js Group, that specializes in producing educational and promotional comics for companies and organizations. We are just starting on a very exciting comics project for a large organization that everyone has heard of. I can't share any details at the moment, but let's just say that working with this organization is like a childhood dream come true.
DCW: Besides Cars, what other Disney characters would you be interested in writing comic stories for?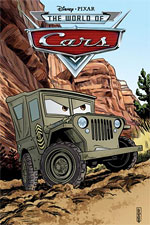 AJP: I have a story in the approval process for one of the other Disney*Pixar properties that BOOM is currently publishing, and I hope to hear something on that very soon. I have also been asked to pitch for a couple of the other titles as well, so I am currently re-watching the movies and coming up with ideas. By the way it is very cool to be able to sit and watch Disney movies and be able to say that you "are working." Following the announcement about BOOM having the license for the traditional Disney characters, Mickey, Donald etc., I've had a couple of discussions about the way I see those characters. – But I guess if I have to pick one other Disney property other than CARS, it would have to be DARKWING DUCK!