Posted on August 18th 2009 in
Boom! Studios
,
Interviews
Boom! Studios is releasing the first issue of Monsters, Inc. tomorrow. It's the latest comic book based on Pixar's animated feature films. The first four issues are written by Paul Benjamin and drawn by talented artist Amy Mebberson. Besides drawing for the Monsters comic, she's also working on the upcoming Muppet Peter Pan comic as well as covers for Finding Nemo and The Muppet Show. I asked Amy some questions about her work.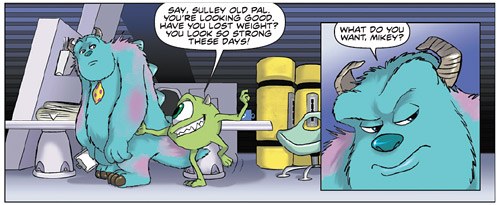 Disney Comics Worldwide: How did you get started at Boom! Studios?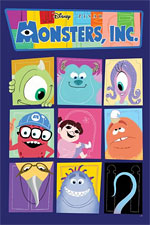 Amy Mebberson: Much like Alan Porter said in your last interview, I had worked with editor Paul Morrissey at Tokyopop. Through the grapevine I heard that Boom! were building a stable of artists and writers for their Pixar and Muppet comics and basically, they couldn't NOT hire me. I wouldn't let them! So I got in touch with Paul, made some phone calls, followed him home a few times, received a restraining orde-… okay, moving on.
All the artists have to be approved by Disney as well, so I had to submit a whole lot of character model sheets for various titles and Monsters Inc. was the first one they approved me for. By a pleasant stroke of luck, I was paired with writer Paul Benjamin, whom I also knew from Tokyopop, so I got to start working with some familiar faces!
DCW: The first issue of Monsters, Inc. comes out this week. What is it like to work on the official Pixar comics and what are the challenges you face drawing the Monsters, Inc. comic?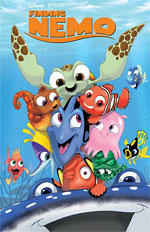 AM: I absolutely adore my job. This is the first time all-new comics have been produced from Pixar movies so we're all very conscious of the enormous artistic legacy we have to preserve and continue. The guys at Pixar are my complete idols and making comics respectful of and worthy of their amazing work is always foremost in my mind. It's a task I'm extremely honoured to have the chance to do.
Disney are great with allowing us to play around with style and art direction, as I was allowed to do with the retro-styled MI alternate covers. Of course, there are some things we have to adapt when taking a very detailed CG movie to a drawn comic. A cartoonist would go crazy trying to draw every single hair or smudge or texture we see on the screen, so some simplification is usually necessary in accordance with our time and the size of our paycheque ;). When I draw a Pixar comic, I basically draw it as it might have looked if it were a 2D animated movie. The Pixar artists designed these characters with pencil and paper just like any other animation, so figuring out the character construction isn't that hard for me. The world of Monsters Inc. is great fun to draw and Paul has written some amazing little stories that really play with the physics of the Monster world.
DCW: You must be very busy drawing covers for several titles and doing the artwork on Monsters, Inc. as well as The Muppets Peter Pan series. What tools and materials do you use making the covers and stories, and can you tell a little about how you work and manage these different projects?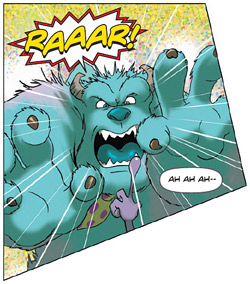 AM: I use the most bog-standard setup to make the comics and covers. The design is just pencilled and cleaned up by hand, then scanned and coloured in Photoshop. I deviate a little from some comic artists in that I do all my own colouring and I don't use ink in the final art. Instead, I trace a clean pencil version of my roughs for the final scan – it's a holdover from my animation days, where all the cleanup is done in pencil. I just feel more comfy with a pencil than a pen.
How do I do all the work? Simple – I work fast. Sometimes we don't know what covers are needed until close to print date, so that's where speed is definitely handy. Nevertheless, doing two titles at once is something I probably won't do again. As with all artistic projects, sometimes things go a bit pear-shaped and things get held up and next thing you know you're eating furniture out of stress. *laugh*
DCW: What is the approval process with Disney / Pixar like? Is there a lot of back-and-forth getting the Monsters, Inc. artwork approved?
AM: Disney initially approve the general story, then they pretty much leave us alone to script and draw the comic. I'm not really privy to the approval process at Disney so I couldn't tell you for certain who sees it and decides these things. Sometimes notes will come back asking for some clarification in dialogue or a prop just to make an action really clear, but if they have no major objections to your particular art style, they're pretty cool.
DCW: You were a senior inbetweener at the Disney Studios where you worked on The Three Musketeers starring Donald, Mickey & Goofy. Boom has the license to publish comics with these characters but hasn't announced yet that they will be creating new material. Would you be interested in drawing Donald Duck or Mickey Mouse comics?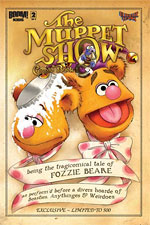 AM: Haha… No, we don't know yet if any new comics will be done of the Big 6. At this stage, there are far more new Pixar and Muppet stories in the works to keep us occupied. I don't know at this stage if I would do any Mouse and Duck stories. If I had the time, I'd probably warm up with some covers first and then if a good story presented itself, I might consider it. But Mickey & co have a very long venerable history in the comics whereas Pixar are still just beginning their comic runs, so I'd rather focus on Pixar where there is more room to explore.
DCW: For over 60 years Disney comics have continued to be extremely popular in Europe and the rest of the world, but not in the USA. What do you think of Boom! Studios picking up the Disney comics license in the United States and targeting a younger audience, as opposed to Gemstone's run, which was aimed at collectors?
AM: I think it's a great idea! Families and children are still Disney's most important audience and anything that brings their classic characters to children is always good. I believe that at this stage, Boom! aren't going to delve TOO far back and reprint the classic Barks comics like Gemstone did. As you said, the collectors already have those in various reprints, but there's plenty of newer comic material from more recent Topolino artists and writers which could use some wider US exposure. Disney Adventures magazine was also a great forum for new Disney comics for kids.
Although Boom! has the freedom to produce whichever comics they see fit, there's also quite a bit of collaboration with Disney to work these new comics into whatever strategies Disney might have in the worlds. So there's a symbiotic thing going on as well.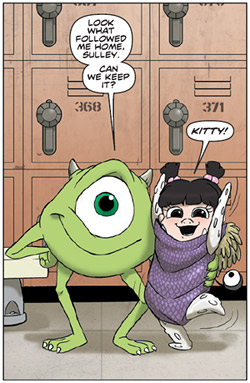 DCW: The Boom! Studios website says that the first two issues of Monsters, Inc. are drawn by you. Can we expect more Monsters stories by you after that, or are you planning to pick up any other series?
AM: I'm actually drawing the first 4 issues of MI. Each arc in the Pixar and Muppet comics is 4 issues each. Each issue is a self-contained story which also links together into a longer story. At this stage, we don't know when a second 4 issues of MI will occur. I'm definitely going to work on other titles in the meantime, though. Right now I'm still nose-deep in Monsters Inc and Muppet Peter Pan, but I'm constantly haggling with my editor over what other series I might work on after these are done. I will likely be drawing the second 4 issues of Finding Nemo, but that's still a ways off. I can't go into specifics on any other titles, but they are all very exciting with some great writers and whichever one I move onto, I'll be very thrilled.
DCW: Besides Monsters, Inc., what other Disney characters would you be interested in writing comic stories for?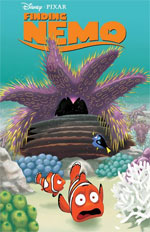 AM: I have to say I was a little annoyed when I discovered that the Japanese had grabbed the licenses for original Disney Princess and Disney Fairies manga. I am an unashamed fan of Disney ladies and think there's definite scope for a Princess/heroine-oriented series.
I'm not really first and foremost a writer, my main job is just the artist (and general over-opinionated busybody – my editor has the patience of a saint!). However, I love writing gags and character comedy, so I'd love to maybe write and draw a Muppet Show title like Roger Langridge has. Disney have given very positive response to my Muppet artwork, so that's obviously a series I'd like to keep a hand in. I'm an old-school Jim Henson fan, so like my respect for Pixar, I am ALL about presenting the Muppets just as Jim and Frank and Jerry Juhl would have.