Posted by
Arthur
in
Boom! Studios
,
United States
Tomorrow Boom! Kids launches a new series: Mickey Mouse & Friends. This means that Mickey is back in comics … well, in the United States at least. In the rest of the world he has never really been away. Comic books with Mickey and his friends remain very popular in other countries. In Italy, weekly Topolino ('Mickey Mouse') is read by over one million people every week, and in France bi-monthly Mickey Parade Géant is a 308-page comic book with a circulation of 187,000.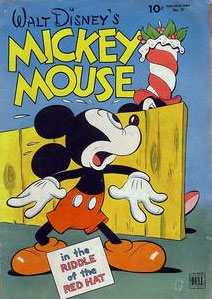 Four Color #79 (1945)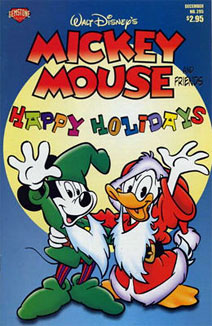 Mickey Mouse #295 (2006)In the USA, Mickey has had his very own comic book for well over 50 years. Officially, the Mickey Mouse comic that Boom is continuing tomorrow (keeping the numbering intact) was launched in 1952. The first Mickey Mouse comic book, pictured on the right, actually came out in 1945 and was the 79th issue in the popular Four Color series by Dell Comics, which highlighted a different character in each issue (The Riddle of the Red Hat in this issue was Carl Barks' only Mickey story). A total of 27 of these Four Color 'one shots' were released with Mickey's name on the cover until Mickey Mouse was launched into his own regularly published series in 1952, starting its numbering at 28.
Mickey Mouse was published first by Dell Comics, then Gold Key, Whitman, Gladstone and finally Gemstone Publishing from 2003 to 2006. Gemstone, founded by Steve Geppi in June 2003, began with a wide range of titles, but in the second half of 2006 they canceled most of their series, including Mickey Mouse, to focus solely on two prestige titles targeted at collectors: Uncle Scrooge and Walt Disney Comics & Stories. The last Gemstone issue of Mickey Mouse was number 295 of December 2006, and the publisher unfortunately lost the Disney license altogether two years later.
Now, after almost three years, the regular American Mickey Mouse comic book is back thanks to Boom! Kids, which obtained the license to publish comics with classic Disney characters earlier this year.
Mickey Mouse #296, which hits newsstands this Wednesday, is the first of Boom's new Mouse and Duck comics (Uncle Scrooge and Donald Duck will follow later). The publisher was kind enough to send me some preview issues to show them to you right here! There are three different covers: More »
September 29th 2009

|

1:13 am CET

|