Posted on September 29th 2009 in
Boom! Studios
,
United States
Tomorrow Boom! Kids launches a new series: Mickey Mouse & Friends. This means that Mickey is back in comics … well, in the United States at least. In the rest of the world he has never really been away. Comic books with Mickey and his friends remain very popular in other countries. In Italy, weekly Topolino ('Mickey Mouse') is read by over one million people every week, and in France bi-monthly Mickey Parade Géant is a 308-page comic book with a circulation of 187,000.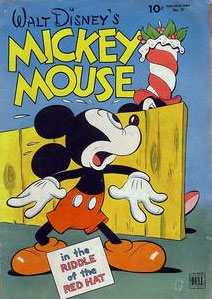 Four Color #79 (1945)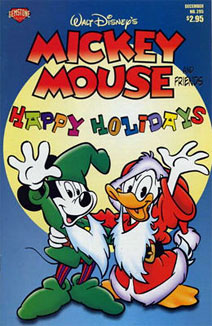 Mickey Mouse #295 (2006)In the USA, Mickey has had his very own comic book for well over 50 years. Officially, the Mickey Mouse comic that Boom is continuing tomorrow (keeping the numbering intact) was launched in 1952. The first Mickey Mouse comic book, pictured on the right, actually came out in 1945 and was the 79th issue in the popular Four Color series by Dell Comics, which highlighted a different character in each issue (The Riddle of the Red Hat in this issue was Carl Barks' only Mickey story). A total of 27 of these Four Color 'one shots' were released with Mickey's name on the cover until Mickey Mouse was launched into his own regularly published series in 1952, starting its numbering at 28.
Mickey Mouse was published first by Dell Comics, then Gold Key, Whitman, Gladstone and finally Gemstone Publishing from 2003 to 2006. Gemstone, founded by Steve Geppi in June 2003, began with a wide range of titles, but in the second half of 2006 they canceled most of their series, including Mickey Mouse, to focus solely on two prestige titles targeted at collectors: Uncle Scrooge and Walt Disney Comics & Stories. The last Gemstone issue of Mickey Mouse was number 295 of December 2006, and the publisher unfortunately lost the Disney license altogether two years later.
Now, after almost three years, the regular American Mickey Mouse comic book is back thanks to Boom! Kids, which obtained the license to publish comics with classic Disney characters earlier this year.
Mickey Mouse #296, which hits newsstands this Wednesday, is the first of Boom's new Mouse and Duck comics (Uncle Scrooge and Donald Duck will follow later). The publisher was kind enough to send me some preview issues to show them to you right here! There are three different covers: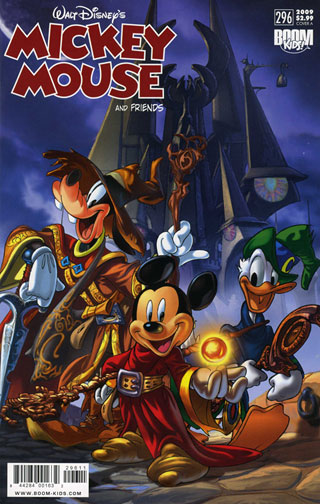 Mickey Mouse and Friend 296 – Cover A
| | |
| --- | --- |
| Cover B | Cover C (Incentive) |
The third cover is the 'incentive' cover. One in every ten issues sent to retailers will have this cover. Note that it doesn't have any text on the front; the bar code, issue number, etc. are on the back along with a special drawing.
Issue 296 of Boom! Kids' new Mickey Mouse series kicks off an Italian comic saga titled Wizards of Mickey, which was created by The Walt Disney Company Italy and first published there in 2006. Wizards is a 266-page / 10-part series starring Mickey Mouse, Goofy and Donald Duck in a world of wizards, castles and bewitched lands. In this first issue of the saga, written by Stefano Ambrosio, we follow Mickey as he begins his quest to return a magic crystal to his village after it is stolen by the devious Peg-Leg Pete.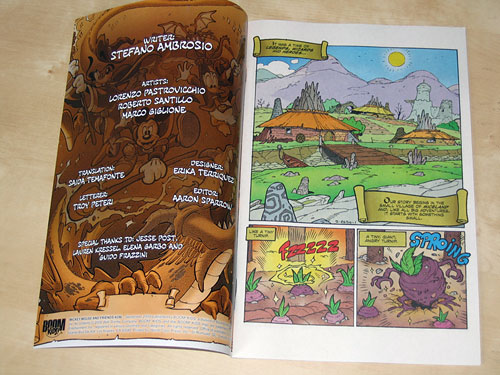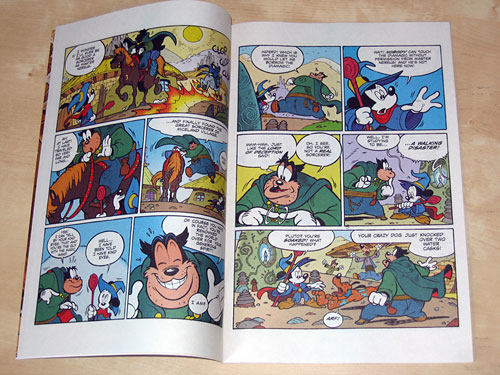 This type of story is a rather big change from the work that Gemstone used to publish in Mickey Mouse and its other Disney comics, which were usually 4-tier stories created by Egmont Comic Creation in Denmark. It's an effort by Boom to target its Disney comics at a younger audience. Personally, I would have preferred shorter Mickey Mouse stories, a mix of new ones (from Denmark, Italy, Holland, etc) and classic ones by artists like Paul Murry and Floyd Gottfredson. After all, these too are being read by young kids around the world, and the classic stories is what made Disney comics so popular in America half a century ago. But Gemstone has tried this approach for several years and wasn't very successful. Something had to change, I guess.
Something I am concerned about, though, is the length of this story, which Boom will spread out over 10 months. In Italy, Wizards of Mickey was published in the weekly Topolino, so readers had only to follow the story for two-and-a-half months before it ended. In most other countries the series has appeared either in weekly comics, two-or-more chapters at a time, or all together in a collected volume. When Gladstone and Gemstone printed long Don Rosa stories in their original three parts (meant for the European weeklies), readers complained about the stories being spread out over three months. It'll be interesting to see if readers will have the patience to follow Mickey's wizardry adventures for nearly a year before its conclusion.
In any case, I'm thrilled that Mickey Mouse comics are back in this country and I'm looking forward to reading the rest.
By the way, this 10-part saga of Wizards of Mickey that Boom starts this week is only the beginning. The Italian series was followed in 2007 by a second 288-page saga, Wizards of Mickey II: The Dark Ages. And a third part, Wizards of Mickey III: The Ancient Evil, is currently in the works. So if you like this first comic you'll have a lot more to look forward to!