Posted on October 4th 2009 in
Carl Barks
,
Netherlands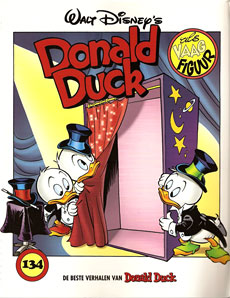 Last week, a new album in the De Beste Verhalen van Donald Duck ("The Best Stories of Donald Duck") series came out in the Netherlands. Album number 134 is the first new album in over a year.
"Beste Verhalen" has reprinted (randomly) each story by Carl Barks since 1975. The albums were published regularly for over two decades until the Dutch publisher ran out of stories last year. Album number 132 basically finished with the last few stories written and drawn by the Duck Man himself.
Since album 133, the series has started to publish stories written by Barks, but completed by other artists. There are not too many of these, but it will keep the series going for a little longer. Most significantly these include the 24 Junior Woodchucks stories that Barks wrote in the early 1970s after being lured out of retirement.
Barks wrote these JW stories with rough pencil layouts of each panel. These sketches were published in set VI of The Carl Barks Library in 1990. The two dozen stories were often about modern day's struggles with pollution and the environment, representing the Junior Woodchucks as 'nature' and Uncle Scrooge as 'heavy industry'.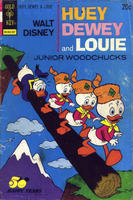 Junior Woodchucks 21 (1973)Geoffrey Blum, a leading authority on Carl Barks, wrote: "Not only do the scripts offer us a privileged glimpse into Barks' workshop, they comprise an essential phase in his career: the storyteller's final effort to come to terms with the decline of modern America. There is fresh emphasis on the problems of society: political graft, protest marches, pushy reporters, and bad samaritans who cannot pause along the road to save three children trapped in a bottle. […] In this world of graspers and takers, Uncle Scrooge reverts to his earlier, more villainous persona, bulldozing forests and strip-mining parks … "
(Source: "The Last of the Wine", page 173 of set VI of The Carl Barks Library)
The 24 Junior Woodchucks stories were originally drawn by the publisher's staff artists and appeared in Gold Key's Junior Woodchucks in the 1970s, but many Barks fans considered the drawings too stiff and expressionless, missing nuances and expressions that can be seen in Barks' sketches.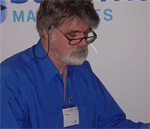 Daan JippesTalented Dutch artist Daan Jippes, considered by many to be the best duck artist to follow Barks, has been redrawing these stories for Danish publisher Egmont. Jippes is keeping much closer to the original sketches and he has done a phenomenal job. So far twelve of the revamped Junior Woodchucks stories have been published, so the Dutch publisher should have enough material for a few more "Beste Verhalen" albums for now.
Jippes — who, by the way, has also done most of the covers of De Beste Verhalen series — is one of my favorite artists and I love what he has done with the JW stories. But wait, why don't you judge for yourself? Here are opening pages of two JW stories with left the original sketches by Barks from 1972 and right Jippes' new inked versions. What do you think?