Posted on October 8th 2009 in
Boom! Studios
,
Interviews
,
Italy
This week, Boom! Kids in the United States is launching the new incarnation of one of the longest-running and most famous comic books of all time, Walt Disney's Comics & Stories. Boom's first issue, number #699 (available here), kicks off with the first chapter of a multi-part series titled Ultraheroes, which was produced by The Walt Disney Company Italy for the Italian weekly Topolino.
One of the writers of Ultraheroes is Giorgio Salati. I had a chance to ask Giorgio some questions about his work for Disney and writing Ultraheroes.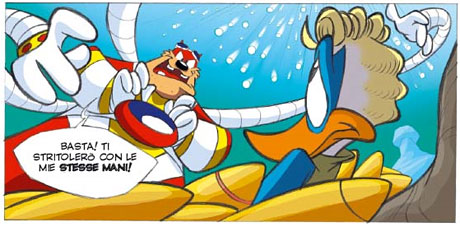 Disney Comics Worldwide: How did you get started writing Disney comic stories for Disney Italia?


(above portrait of Giorgio
by Marco Ghiglione)Giorgio Salati: After some novel and film script writing courses that I attended after high school, I realized that comics were the kind of media I really wanted to write for, having been a passionate comic book reader throughout my youth. That's why I followed comic book writing courses at Scuola del Fumetto in Milan.
Teacher Riccardo Secchi — now a colleague and a friend — taught me this beautiful profession with a mix of passion and discipline. One day he told me: "You're good at writing funny dialogues; you'll sure fit Disney's style".
That was good news to me. I've been a Disney fan since I was born (my father is a Barks fan!). I got the e-mail address of a Disney Italia editor and sent him about ten plots and a pair of scripts. He called me and said something like: "Ok, you can write Disney comics. Now send me something that fits." Gulp! Ten plots rejected! I pulled myself together and wrote new stories which fit (the main characters were Donald & Daisy Duck and Goofy), so… I signed a contract! It was the summer of 2003 and it was like a dream come true.
DCW: Who are your favorite Disney artists? Do you have a favorite story?
GS: Well, that's quite a hard question. Maybe my favorite Disney authors are Carl Barks and Floyd Gottfredson. And Romano Scarpa, who learned the "lesson" from Barks and Gottfredson, and created beautiful stories for both the "duck" and "mouse" universes.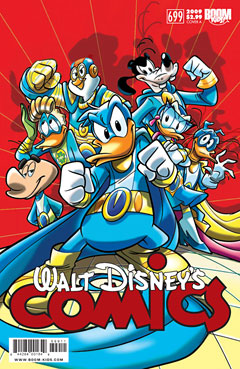 That's what I always try to be: a good writer for all Disney characters. One of my favorite "contemporary" writers is Tito Faraci, but you'd be surprised by how many good Italian authors you'd find in the Disney universe. My favorite artist is Giorgio Cavazzano, for whom I've had the luck to write stories. I'd like to give special mention to Carl Barks' "A Christmas for Shacktown". That's the first title that comes to my mind, just like a Rorschach test!
DCW: What do you think of the fact that Utraheroes, a series you've worked on, is now being published in one of America's most famous and longest-running comic books, Walt Disney's Comics & Stories?
GS: Well, maybe you can guess it… I'm really excited! The U.S. is where all the Disney magic started, so that's another dream come true. I hope American readers will enjoy my stories.
DCW: You wrote Ultraheroes with several other writers, including Alessandro Ferrari and Riccardo Secchi. Can you tell a little about the process of how Ultraheroes got started and how you worked with other authors together to write the script?
GS: Disney Managing Editor Gianfranco Cordara and Disney Academy Creative Manager Marco Ghiglione asked Riccardo Secchi, Alessandro Ferrari and me to write a saga about a Disney superheroes team-up. That sounded really fun, so we started working at full throttle!
Since Riccardo also writes for TV series, he set us to work in the style of a TV storyline writing team. We had little time and worked very hard. In the first meetings we outlined the whole story and then individually we each wrote some chapters. We had some other meetings together with Gianfranco to discuss the plots, and then we individually worked out the scripts. Afterwards, we had a few other meetings to correct flaws and to put all this together … and then the writing work was finished! Phew!
It's been hard but really fun! Our goal was to write something suitable for children and adults, full of both humor and action at once, and appreciable by both Disney and superheroes fans. That had to be new, modern… but fully Disney style! I hope this all comes through to readers.
DCW: Ultraheroes has several characters that are well known to Italians but virtually unused in American Disney comics, such as Paperinika, Rockerduck and Zafire. Do you think this will be a problem for American readers of the series?
GS: I hope not! We tried to slowly introduce the characters to the readers, showing their powers and personalities, but maybe you can tell me about it after you've read it! Of course, it would be great if someday American Disney comics will regularly publish Italian stories with these characters, making them well known to the American audience.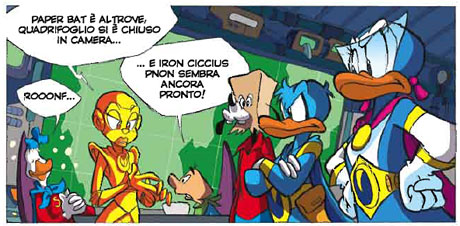 DCW: Wizards of Mickey already has a second saga and I heard that they're working on a third. Are there any plans for a follow-up on Ultraheroes?
GS: After the first saga there have been a few other single Ultraheroes stories, but currently I don't know if there will be any other series. That doesn't depend on me — it's the Disney editors who decide these issues. Maybe it even depends on the American readers' response to Ultraheroes!
DCW: Are you working on any new Disney comic stories at the moment, or anything non-Disney?
At the moment I'm working for Italy's most important puzzle magazine, and at the same time I'm discussing with Disney editors some ideas for new stories. I can't say much, as everything is still to be decided. And finally, I am planning a lot of non-Disney projects like books, comics, animated stories, music and more. We'll see what happens and I'll let you know about it!
DCW: Any final words?
GS: About Ultraheroes: that was passionate work and I hope American readers will enjoy it. About working for Disney: it's fun, but it's not as easy as it would seem. Writing for such a large audience comprised of children and adults is an exciting challenge. You have to LOVE those characters and Disney must run through your veins; otherwise it's hard to create good Disney stories. And about YOU: thank you Arthur, and all your readers, for your interest in Disney comics and in this scribbling that I do! Keep reading lots of comics!
DCW: Thank you Giorgio for taking the time for this interview and I look forward to reading the rest of Ultraheroes and more of your stories.