Posted on October 21st 2009 in
Pictures
I recently got some nice scans of international Disney comics from my friend Tim Otterburg in Germany. Like me, Tim collects Disney comics from around the world and he's got an impressive collection. With his permission I'd like to share some of these wonderful scans here. You can click the pictures to view them bigger.
Carl Barks Library (Iran)
The first one and my favorite is this album from Iran. It's a direct translation of the Carl Barks Library in Color that was published in the 1990s by Gladstone in the United States, reprinting the work of Carl Barks in chronological order. At least 5 of these albums were published in Iran and it's the only Disney comic from the country I have ever seen: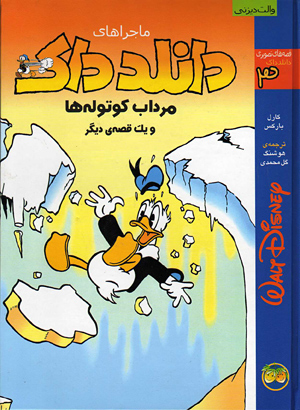 Mickey (Kuwait)
Mickey was published in Kuwait by publisher Alqbas around the years 2000 to 2002. A total of 20 of these issues were published. They are not in Arabic but in Urdu, one of the two official languages of Pakistan (the other being English). They were published in Kuwait because of the large number of Pakistani workers in the country.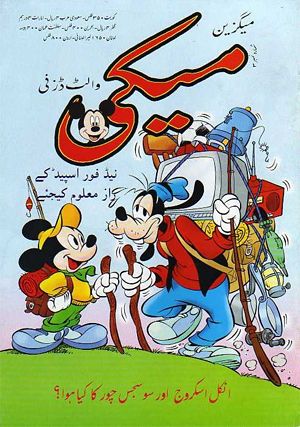 Super Bath (United Arab Emirates)
This is a copy of Super Bath from the United Arab Emirates. It's the Arabic version of Paperinik New Adventures. This Arab version was published by Al-Futtaim in United Arab Emirates and distributed throughout the region. The cover has prices for Oman, Bahrain, Saudi Arabia and Qatar.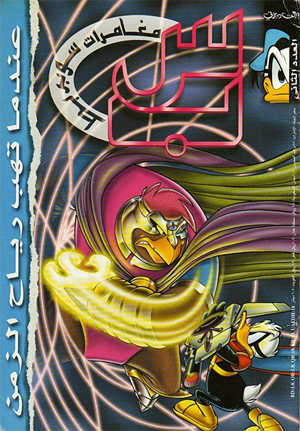 Adventures of Donald Duck (India)
Disney comics in India have been published since 1998 by Egmont. The comics below are all different versions of the the same title, Adventures of Donald Duck. India has many different languages and Disney comics are translated for all the different regions. The following scans are the covers of copies in Hindi, Assamese, Bengali, Kannada, Tamil and Malayalam:
Donald và bḁn hṹu (Vietnam)
This comic is from Vietnam. Donald và bḁn hṹu was published in Vietnam by the Saigon Times Group from 1996 to 2001. A total of 233 of the weekly comic came out.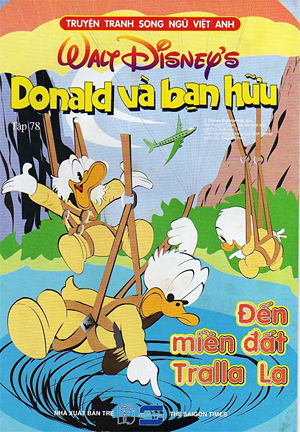 Mickey (Vietnam)
But comics have been around for longer in this country. This Vietnamese issue of Mickey is from 1966. It is unknown to us for how long this 8-page comic book was published.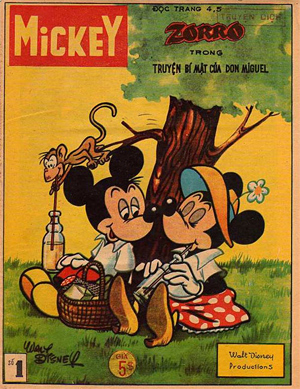 Mickey Mouse Pocket (Thailand)
This comic book from Thailand is in the same format as Germany's Lustiges Taschenbuch, a pocketbook filled with 3-tier Disney comic stories. This issue with the same stories was also released in Hong Kong and Turkey at the same time, presumably a trial by Egmont in several countries.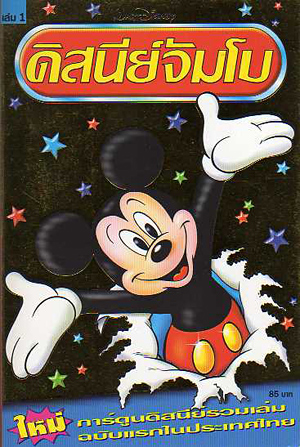 Mikki Mayc (Ukraine)
Egmont launched Mickey Mouse in Ukraine in 1993. It is standard monthly similar to the other Mickey Mouse comics across Eastern Europe.