Posted on December 20th 2009 in
Digital Comics
Last Thursday, PlayStation launched their new Digital Comics service for the PSP (PlayStation Portable). Comic stories can be purchased from the PlayStation Store and there's a large variety of different genres, from Astroboy to X-Men. Disney comics are available too (or I wouldn't be writing about this here) as part of the new Disney DigiComics program from Disney Publishing Worldwide. Right now there are a total of 40 Disney comics available for download and DPW plans to add five to ten new stories per week! The PSP service is currently only available in English in Australia, New Zealand, United Kingdom, United States and South Africa. There are also sites for Ireland, Germany, Italy and Spain but these have a 'coming soon' message on the homepage. In 2010, other countries will be added and Disney DigiComics will become available on other platforms, like Apple's iPhone and iPod.
Disney DigiComics is using the vast library of comics created by The Walt Disney Company Italy for Topolino and other Italian comics. The Disney stories are in a special section in the PlayStation Store on the PSP and they are organized by character. You can browse by Donald Duck, Daisy, Gladstone Gander, etc. Special series, like Double Duck and Wizards of Mickey, are listed separately. The short stories (around 25 to 30 pages) are $0.99 each and the longer ones (around 50 pages) are $1.99. There is one free 8-page comic for download, which is titled 'Donald Duck and the Fussy Genie' (I-2270).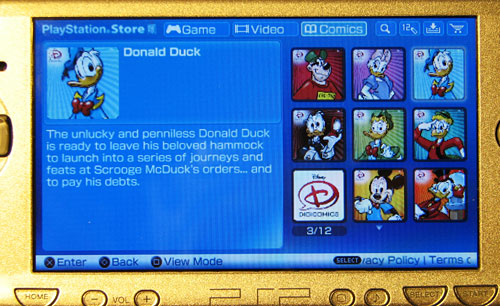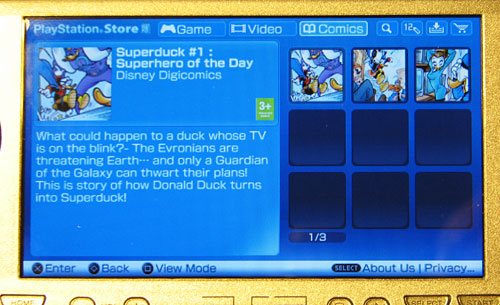 The titles and descriptions of the stories in the store are a bit stilted, but the translations of the stories I read so far were okay. After downloading a story it becomes available in your Digital Comics Reader, which can be downloaded from this page. I found the interface of the Reader very easy to use and I was reading my comics in no time.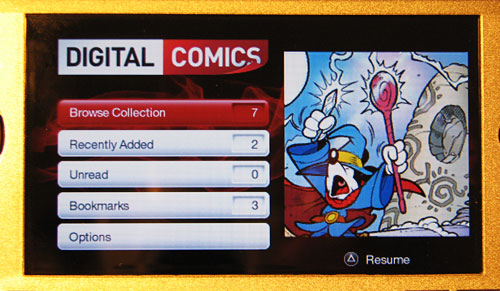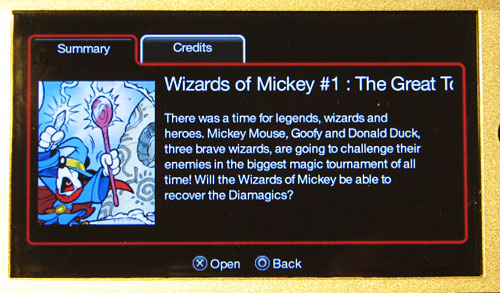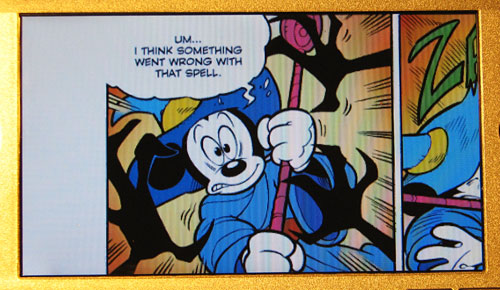 The Reader uses the 'AutoFlow' system that shows the story how the author intended it. The screen scrolls from panel to panel as you hit the next key. Sometimes it zooms in on action for emphasis or a text balloon if it was too small to read. There is an occassional simple sound effect (the blast of a gun or the blowing of the wind), which is a bit cheesy. Fortunately, you can turn these sounds off and the reader allows you to play your own MP3 music while reading your comics, which is a great feature. At any time, you can zoom in, zoom out and scroll across the page at your leisure to have a closer look at the artwork. When you're ready to continue, just hit the next key and it will continue AutoFlow where you left off. It's a very smooth and intuitive system.
The longer sagas of Wizards of Mickey and Double Duck that are now available in digital format are also currently being published by Boom! Studios in the United States. At $1.99 per chapter, the digital version is a bit cheaper than the $2.99 it costs to buy a paper copy. It is interesting to note that both digital and Boom's versions of Wizards of Mickey have the same translation but different lettering.
If you're just in it for the stories, DigiComics are a great new way to read them. They're cheaper, faster, cooler, and you even save some paper. If Disney is truly going to add five to ten new stories per week, you'll be able to read the stories faster than Boom will be able to put them out. Many of these Italian stories have never been released in the United States, or anywhere in English, so this is a great way for fans and collectors of Disney comics to read lots of new material in English. Of course, it's going to be different in each country. Here in the USA we are just getting some of these stories through Boom! Studios, but Australia and the UK currently don't have any classic Disney comics, so for people there this will all be new. Yet in other countries, like Germany and Italy, Disney comics can be found on every street corner and lots of people may already own these stories in paper comics.
I have been reading Disney comics for over 25 years but had never read one on a hand-held device until this weekend. After this new experience I must say it was not bad at all. I still prefer to hold the paper copies in my hands, but this was definitely a fun and relaxing way to read. At $0.99 to $1.99 per story I do find it a bit on the expensive side. I'm used to storing Disney comics on the shelves in my collection (I know, old-fashioned, right?), and having a story just in digital format on my PSP feels like I don't really own it. As a collector I'm going to (for now) continue buying my paper comic books, but I may purchase a digital story now and then that I want to read and is not available to me otherwise.
Below you can find my attempt at a video demonstration of how the PSP's Digital Comics Reader works. The real thing looks much better than what you see in this video, but hopefully you get the idea: