Posted on January 4th 2010 in
Digital Comics
,
Websites
The United Kingdom and Italy now have a DigiComics section on their local Disney websites. The two sites can be found at disney.co.uk/digicomics and disney.it/digicomics. They are only two pages, but provide some official information about the service.
The homepage has two large features for Wizards of Mickey and Superduck: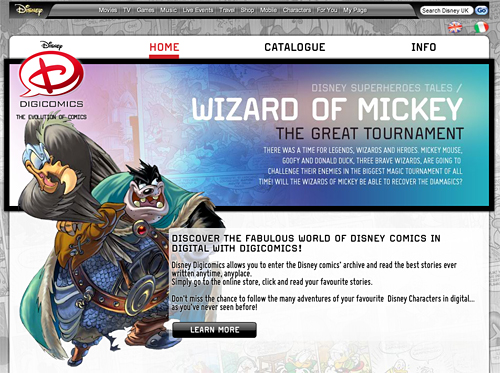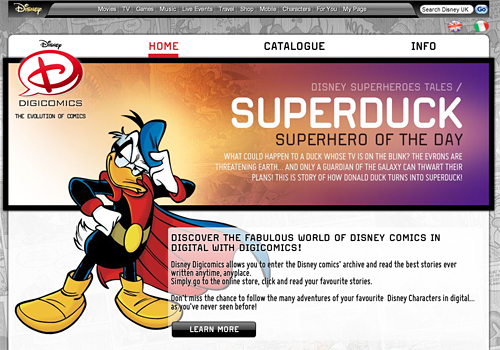 Then there's an Info page with some questions and answers. First it is made clear that the digital comics will be available on "mobile and smartphones, iPhones® and iPods®, PSP™ and PSP™go". Secondly it says that "5 new stories will be released each week within the Comic Store of PlayStation®Store and Apple's online stores, and will continue to be available in an ever growing Digicomics' digital archive."
I had previously heard that they were planning to release 10 stories per week, but 5 is still a good amount. The service has now been available on the PSP for two-and-a-half weeks and the number of stories is still 40 as it was the day it launched.
I can not find any information about DigiComics on the US website at Disney.com, even though the service has launched here on December 16th too. It has always surprised me that there is never any information about Disney comics on the company's main corporate website. Everything is covered, from animation to television and from books to theme parks, but the comic books are not mentioned anywhere, even though in a lot of countries in the world that is most people's main access to the world of Disney every week.