Posted on January 7th 2010 in
Boom! Studios
,
New Titles
,
United States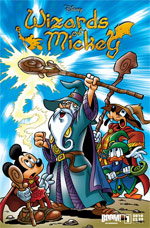 Boom! Studios in the United States is launching two new monthly series this month: Wizards of Mickey and Disney's Hero Squad.
Wizards of Mickey #1, on sale January 27th, will continue the epic tale of magical adventure that was started in Mickey Mouse & Friends issues #296 – #299. The stories proved popular enough to garner its own stand alone series. Wizards of Mickey follows the adventures of Mickey Mouse, Donald Duck and Goofy as they compete in the Grand Wizard's tournament, determined to win all the pieces of the Sorcerer Supreme's crown and free Mickey's master from the clutches of the evil Phantom Blot! You can pre-order Wizards of Mickey #1 for $2.39.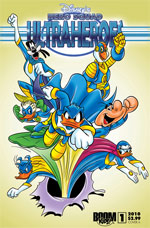 Disney's Hero Squad, which will also go on sale on January 27th, continues the Ultraheroes stories that were started in Walt Disney's Comics and Stories #699 – #702. The series features Super Goof, Duck Avenger, Eega Beeva, The Red Bat and more coming together as Disney's mightiest band of heroes, ready to stomp out the bad guys wherever they may lurk! Pre-order Hero Squad now for $2.39.
"The fan response to Wizards of Mickey and Disney's Hero Squad has been completely insane," says BOOM! Disney Editor Aaron Sparrow. "These characters have reached a whole new audience, and fans, old and new, have clamored to have these stories in their own dedicated series. Well, you demanded it and we delivered."
So what will happen to Mickey Mouse & Friends and Walt Disney's Comics & Stories? The first one will take a break for a while as Boom prepares the next wave of Mickey Mouse stories. This will delay the series milestone #300 issue, which would have been next. Comics & Stories #703 will see the debut of a new series by Italian artist Casty titled "Mickey Mouse and The World to Come" (I TL 2721-3P, "Topolino e il mondo che verrà"). For a preview of Casty's work see this fan-made website about his work.
From this website you can even download a wallpaper for the story that is coming to Comics & Stories: