Posted on March 13th 2010 in
Boom! Studios
,
New Titles
,
United States
Do you remember Darkwing Duck, the terror that flaps in the night? The 1990s superhero duck from Saturday mornings on ABC returns in his own comic book mini-series from Boom! Studios this June. Lanchpad McQuack, Gosalyn Mallard and the fiercest of Darkwing's rogue gallery all join the daring duck of mystery in an all-new, completely original four-issue mini-series: Darkwing Duck: The Duck Knight Returns.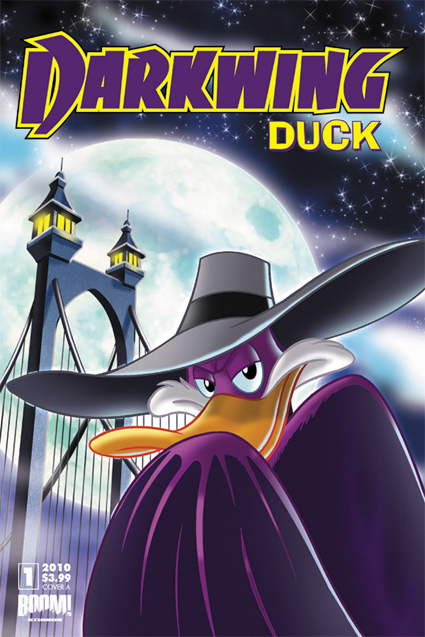 Inducks only lists about 55 stories ever made (worldwide) with this character and none since 1999, so this will be the first time in over a decade that Darkwing Duck returns to the funny pages. And, it'll be the first original duck story to be published in the United States for a while as well.
The mini-series is written by Ian Brill and drawn by James Silvani. "It's such a dream to bring back Darkwing, a favorite of mine and millions of others," says series writer Brill. "Everyone involved in this book are working tirelessly to make sure this comic has the same feel of anarchic fun of the TV series, while still presenting a whole new adventure in the life of Darkwing."
The story sees Darkwing's city of St. Canard under the control of a mysterious corporation. Darkwing's been out of commission for a while but when his friends and family are under attack … you better watch out. Darkwing will fight new villains as well as old, including Megavolt, Quackerjack, Liquidator and Bushroot.
For more see this article and interview on Comic Book Resources.