Posted on December 26th 2010 in
Anniversaries
,
Boom! Studios
,
United States
Long-running Uncle Scrooge will reach its 400th issue in February! The world's richest duck first appeared in the Donald Duck story Christmas on Bear Mountain by Carl Barks. By 1952 the character's popularity convinced publisher Dell to try three one-shot issues featuring Scrooge in a leading role. After the three one-shots Scrooge was given his own title, starting with issue #4 in December 1953. The monthly comic is currently published in the United States by BOOM! Studios, who celebrates the milestone issue featuring artwork by Carl Barks, Don Rosa, Daan Jippes and Giorgio Cavazzano.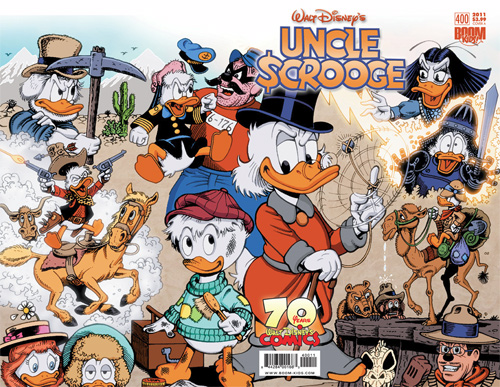 The regular edition (above) features a wrap-around cover by Don Rosa. Two additional collector's covers are a 1-in-10 cover by Daan Jippes (below left), and a deluxe edition with a cover showing the oil painting "Money Lake" by Carl Barks (right):
"The stories you'll find in UNCLE SCROOGE #400 are truly some of the rarest and greatest Scrooge tales ever published," said BOOM! Marketing Director Chip Mosher. "Fans demanded classic Scrooge tales, and trust me when I say there's no better place to start than UNCLE SCROOGE #400. How can you go wrong with Carl Barks, or Daan Jippes, or any of the amazing creators in this book?! And this is only the beginning. Classics are definitely back at BOOM!"
The issue features Giorgio Cavazzano's "The Duck Man" (Zio Paperone e l'uomo dei paperi), a truly unique story in which a reporter visits Carl Barks at his home in Grants Pass, Oregon, to interview him. They talk about some of his stories and visit Duckburg's famous characters that Barks created. Other stories in Uncle Scrooge #400 include three Barks one-page gags and Daan Jippes' Obsession.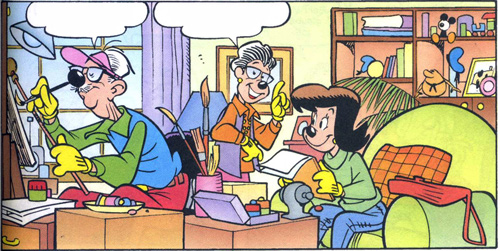 Panel from Giorgio Cavazzano's The Duck Man