Posted by
Arthur
in
Digital Comics
,
Netherlands
,
News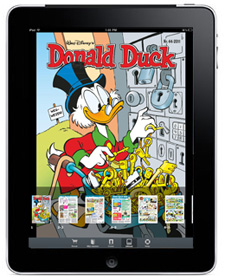 This month Dutch publisher Sanoma started releasing its weekly Donald Duck comic in digital format on the iPad. Readers must first install the free app Tijdschrift.nl and can then purchase 63 different Dutch magazines, including National Graphic, Cosmopolitan and Donald Duck.
Each weekly digital issue of Donald Duck costs €2.39 or $2.99, which is rather steep considering the paper copies cost only €2.05 in stores and €1.65 for subscribers. Each digital version does have 8 bonus pages. I just downloaded the latest issue 44 of 2011 (see screenshots below) and it has 52 pages instead of the standard 44 pages, including an 8-page bonus story.
This new digital comic is great for Dutch expats like myself. Now I can buy the latest copy of Donald Duck Weekly whenever I want. If I buy every issue it would cost me about €125 per year, which is cheaper than the €179.40 it would cost me to get a real subscription outside Europe. In my opinion it is still too expensive for this to become successful. Sure, the 8 extra pages are nice, but in the issue I downloaded the extra story (H96141) already appeared in the same magazine 4 years ago, which is not much of an incentive to pay the higher price.
Part of the high price must be because of the 30% revenue that Apple takes on everything that is sold through the App Store. That leaves €1.67 per issue for Sanoma, which is right about the amount they get from subscribers. Still, with Sanoma saving money on paper, printing and distribution I think that they should be able to lower the price a bit more. At the very least they should allow existing subscribers to download digital copies for free and offer digital subscription prices where you can download a half year or full year at a lower price.
October 30th 2011

|

1:44 pm CET

|