Posted on July 17th 2010 by Arthur in
Chicago
,
Illinois
,
Movies
Through August 23rd, Paramount Pictures is filming Transformers 3 in Chicago. It's been all over the local news here these last couple of weeks as the road blocks and detours cause a bit of extra chaos downtown, especially on the weekends when most of the action takes place.
This weekend the production crew took over Michigan Avenue Bridge and part of Michigan Avenue and turned it into a war zone. We drove down to Chicago today to witness some of the movie magic. Here are movies and pictures from our visit.
This video starts with the sky divers gliding around Trump Tower. They were actually gliding for a while before the video starts, it was very neat. We later found a great place across the river to see some shots of Shia LaBeouf, Rosie Huntington-Whiteley, Josh Duhamel and the other soldiers running up and down stairs. We watched them for several hours as they were being directed by Michael Bay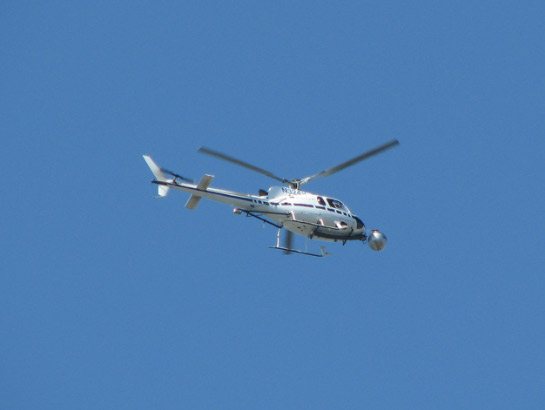 This helicopter with camera in front was flying around most of the afternoon, presumably taking shots of the skyline and buildings to later add CGI robots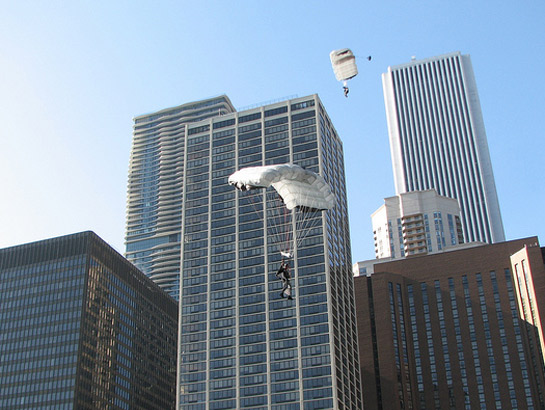 Shortly after we arrived we saw five stuntmen jump out of a helicopter, glide around Trump Tower with their winged suits (very cool!) and then open their parachutes and land on a barge in the Chicago River. We saw this twice but it was done at least once more before we arrived. The skydivers jumped out of a black helicopter while the above white helicopter circled around filming them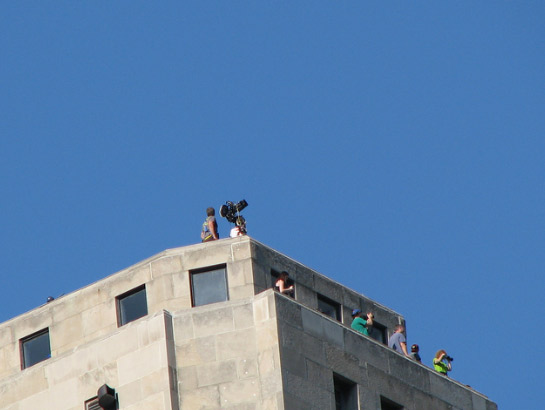 Some of the tall buildings had camera men on top to film the skydivers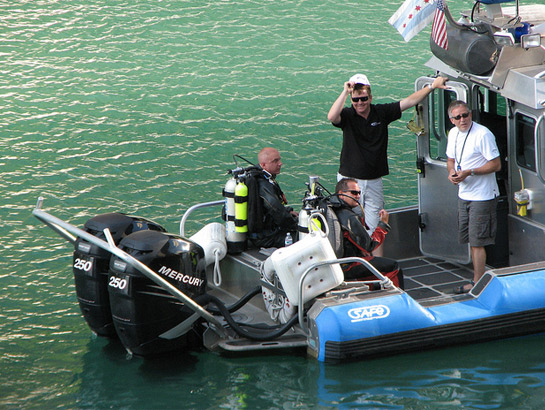 Scuba divers of the Chicago Police were ready to jump in the water in case a skydiver ended up in the river. All went well what we saw, except once one of the gliders missed the barge and ended up on Wacker Drive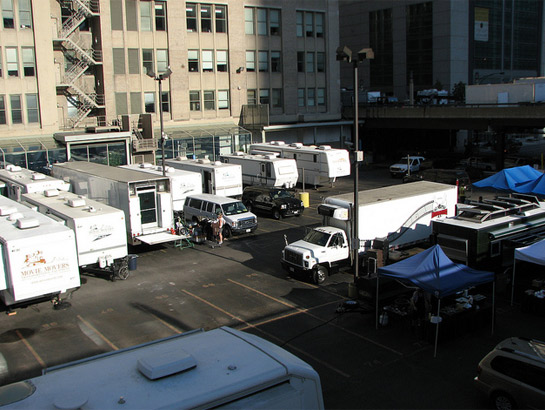 There were a lot of Paramount trucks and trailers everywhere around the set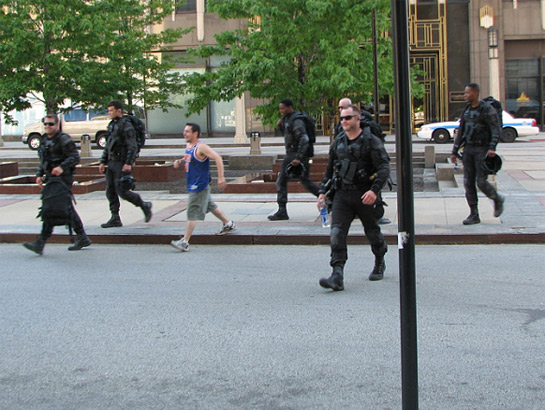 These actors just picked up their machine guns and other weapons at a wardrobe trailer and are walking to the set. The second guy from the left is Josh Duhamel, who also played Major Lennox in the first two Transformers films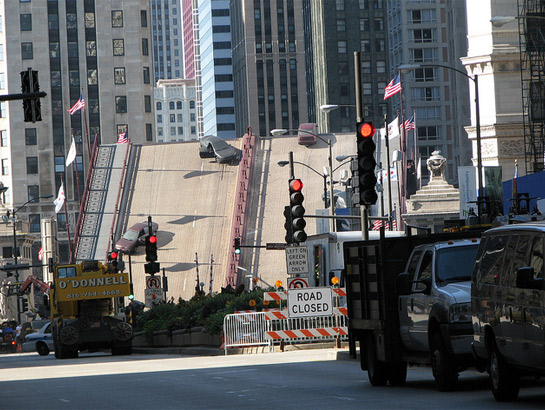 The bridge was partially opened all day with several wrecked cars attached to the north side of the bridge. The cars were hanging from steel cables.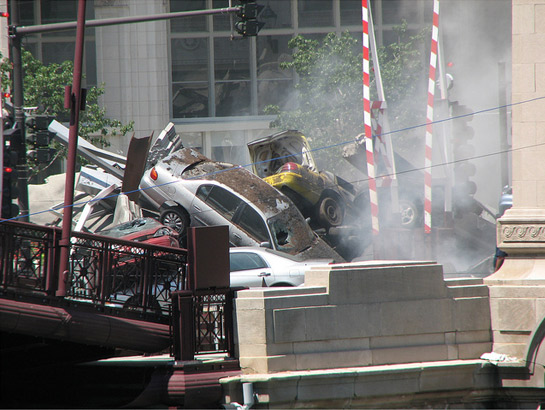 Pile of cars in front of the bridge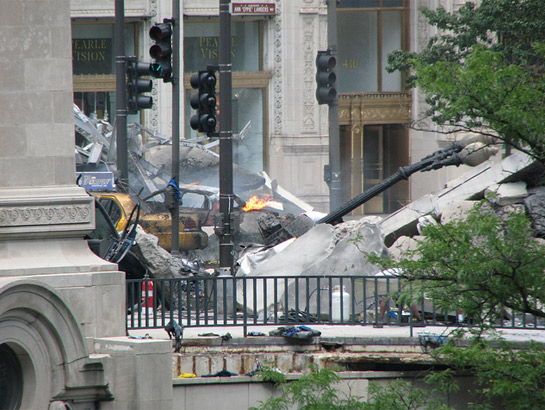 Area in front of the bridge, with wrecked taxis, parts of buildings and lots of smoke and fire. One of the taxis had a 555 telephone number on it 🙂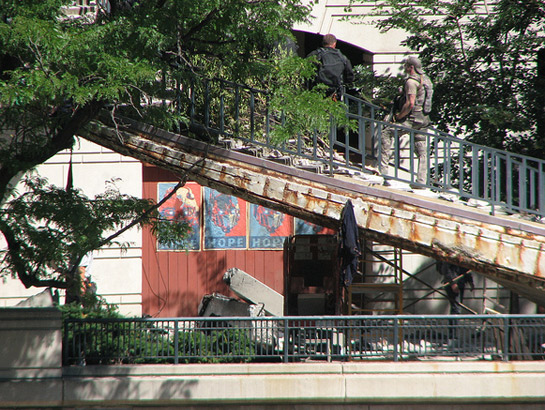 Transformers "Hope" posters based on the Obama poster by Shepard Fairey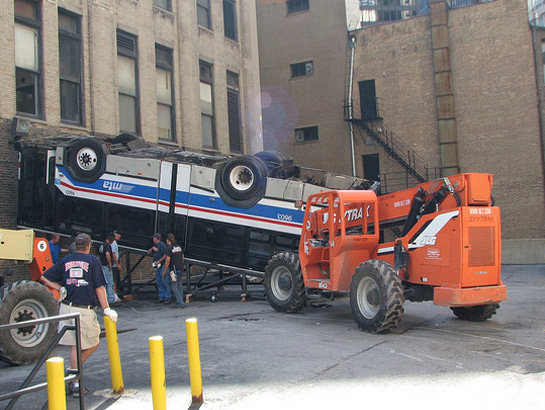 In an alley off E Wacker Drive we saw people positioning an upside-down MTA bus (a fake Chicago CTA bus) with some other debris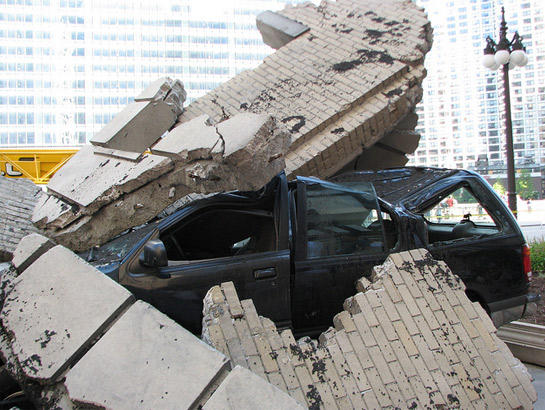 This wrecked truck was right in front of the Corner Bakery where we had lunch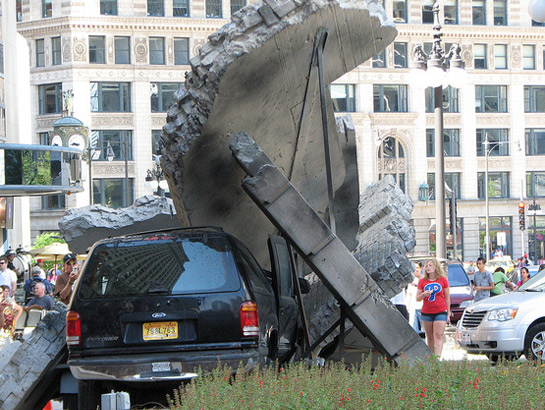 Same car from the side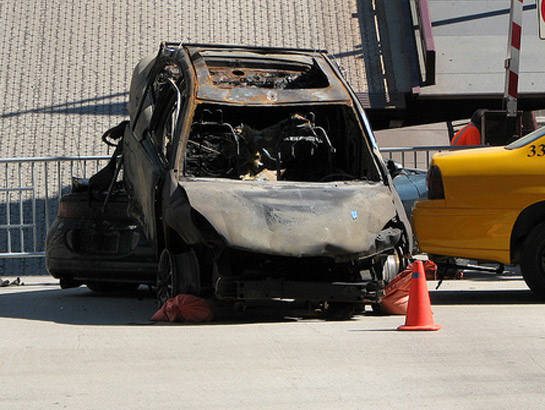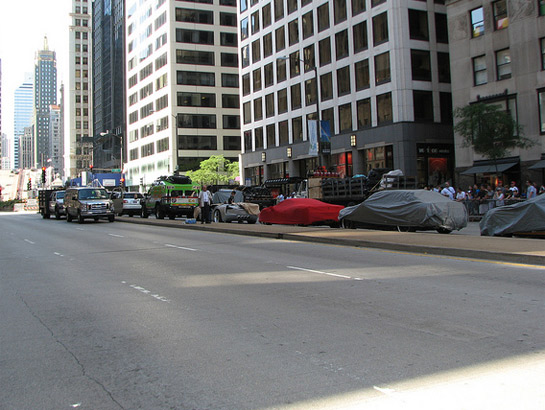 The Transformers cars were parked on Michigan Avenue and covered up to keep them clean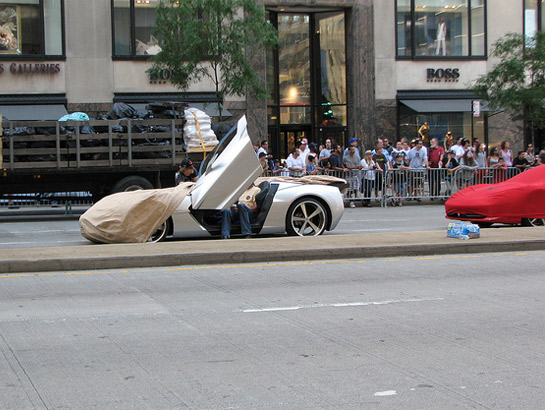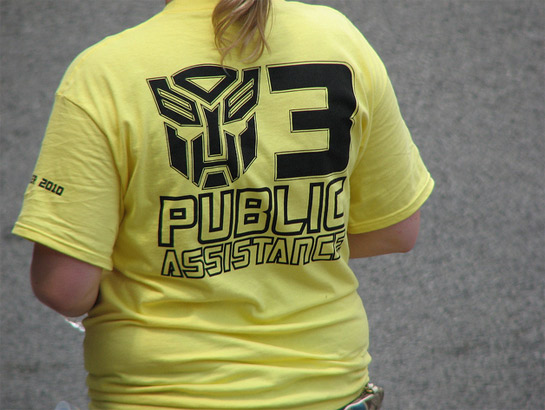 All around the area were people in these yellow t-shirts telling people to keep moving and not block sidewalks or get too close to the set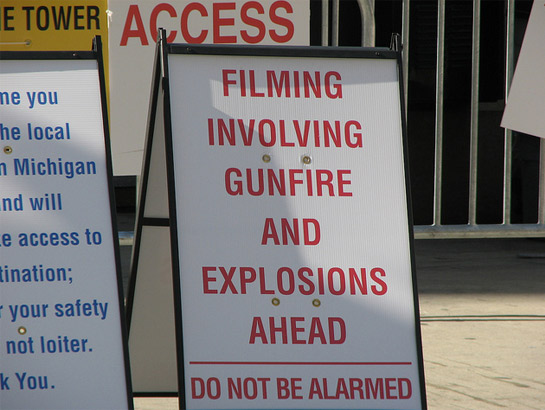 Lots of other people have posted videos on YouTube. Here are some nice ones:
Video by billyripkin, from YouTube
Video by spudart, from YouTube
Video by mjleshock, from YouTube
Video by zztopeurope, from YouTube