Posted on January 4th 2010 by Amy in
Space
,
Travel
There are only five more Space Shuttle missions before the program is retired. We had a great time viewing the launch of STS-129 in mid-November. We planned our schedule by using information provided to us by NASA that accompanied our tickets, and reading a few trip reports made by other shuttle fans. Here are my tips for making the most out of viewing a shuttle launch from the causeway.
Wear shoes, not sandals. I love my Tevas and wear them almost exclusively in the spring, summer and fall. They were the only shoes I brought with me during a holiday in India and they were all I needed. They were the only shoes I brought to Florida and were fine everywhere except the causeway. The brittle dry grass hurt my feet, I was bitten on the top of my foot and middle toe by something within two minutes of arriving and cut my heel on a sharp rock in the grass.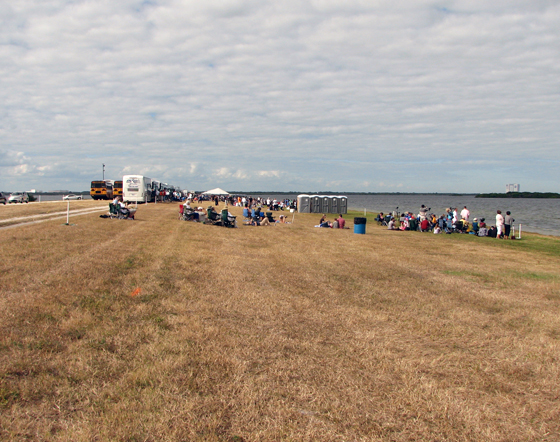 Owie dry grass with hidden dangers.
The literature that accompanied our tickets said that backpacks and food were prohibited at the causeway. We saw tons of people with both monster backpacks and buffets of food at the causeway. Just saying.
We had read that in case of a launch cancellation or postponement after ticket-holders got on the bus to the causeway, one would have to purchase a new causeway ticket. For this reason we thought it would be a good idea to wait until as late as possible to get on one of the causeway buses. But the tickets are relinquished when you get in line, not when you get on the bus. Plus, as soon as you get in line you receive a voucher, shown below, which can be redeemed for a ticket once you return to KSC. We really didn't understand how things would work in the event of a canceled launch after boarding the bus, and we were anxious about it. Hopefully this info will save someone reading this the same anxiety. We waited for about 45 minutes to get on a bus and we were among the last brought to the causeway, having to sit farther away than many others who had gotten in line and boarded buses much earlier. If we were going to do this again, we would get on the bus as soon as possible and wait out at the causeway. Especially if the chances for launch are as good as they were for STS-129 that day – 70% for go.

Voucher in case of launch cancellation after bus boarding.
Look at the launch – especially if it's your first time. When we got back in the bus after the launch I was surprised how many people were showing each other the videos and photos they took of the launch. Even if you have professional equipment, from your causeway viewing site your video or photos will never be as good as what NASA provides. Watch the launch, enjoy the experience, and watch the professional videos later.
Bring your best optics. If you have a scope, bring it.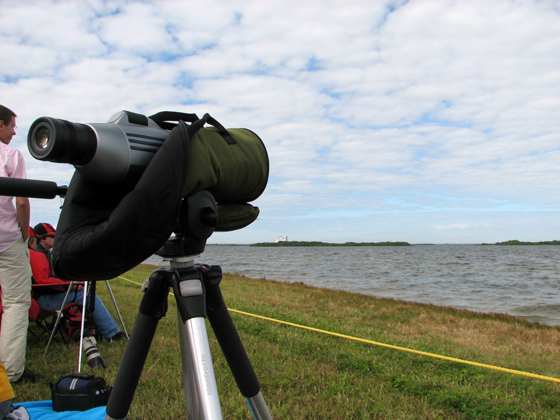 The launch was sweet to see through the scope.
Do a little wildlife watching while you're waiting. Especially if you've traveled a great distance to view the launch, the wildlife in Florida probably has some different flora and fauna on offer than you're used to at home. We watched the birds, of course, including an Osprey who had a very nice view from a perch about halfway between us and the shuttle. While waiting on the bus to return to KSC, we were treated to a few dolphin sightings.
While at KSC, before boarding the bus to the causeway, there are a lot of activities available. On the morning of our launch, they were even running bus tours to the gantry and Saturn V building. Many attractions were open as soon as we were able to get inside, from 6:00AM or so. During our previous launch-viewing attempt, attractions and shops were open in the middle of the night! KSC status updates are usually interesting and they were running NASA TV in the astronaut experience building, where we got to watch the astronauts boarding the shuttle as it was happening.
When looking for a place to sit on the causeway, you will probably want to find a spot where you can see the shuttle unobstructed by the small mangrove islands that lay in the water between the causeway and the launch pad. For this reason we walked further from the shuttle itself when we got off the bus. We found a prime viewing spot and were soon surrounded by other viewers. We were, however, exactly between two loudspeakers, so we had a hard time hearing the announcements. An unobstructed spot as close as possible to a speaker would have been a better choice. On the other hand, we were getting updates from SpaceFlightNow via Twitter while we were waiting, which sometimes informed us of what was going on before the info came over the loudspeakers.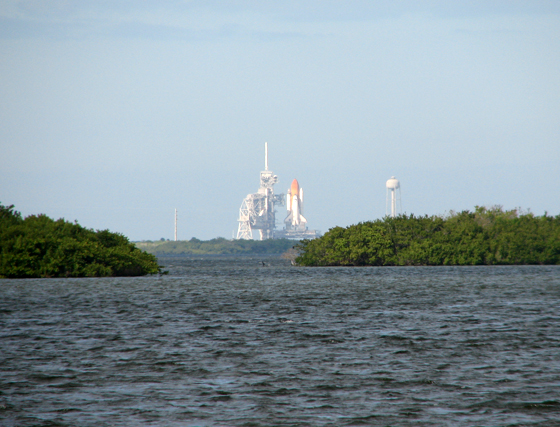 Our view of the launch pad between mangrove islands.
If we had to do it all again, I don't think we would lug all of our stuff around all morning. We got to KSC very early and had an awesome parking spot. Still we carried our spotting scope, cameras, binoculars and lawn chairs around with us from building to building until we got on the bus. If you keep an eye on the crowds and don't wait until too late, you should be able to leave your causeway stuff in your car until you want to get on the bus. Get a handstamp as you exit so you can come back in again.
Finally, tickets for the next launch go on sale this Wednesday. We had some drama obtaining our tickets, but eventually calling is what worked for us. If you're going to try online, why not try calling for tickets at the same time?