Posted on June 25th 2009 by Arthur in
Birds
,
Travel
While we were waiting for the shuttle launch at the Space Coast last week, we did some birding at Ritch Grissom Memorial Wetlands at Viera and saw lots of different birds including 6 lifers. We also wanted to go to Merrit Island National Wildlife Refuge, but that place was locked down by NASA for security reasons until the shuttle would be launched (or scrubbed), so we went to Viera wetlands twice.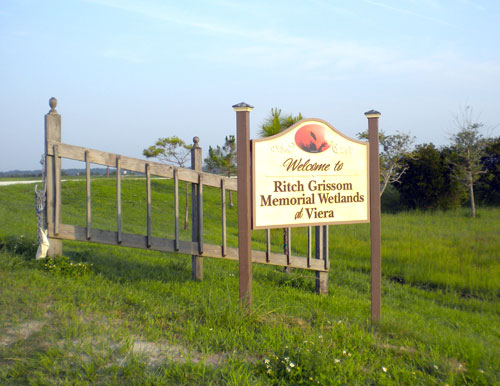 Entrance of Ritch Grissom Memorial Wetlands at Viera
The 35-acre wetlands are actually a water reclamation facility for Brevard County, but the area has been perfectly set up for birding, with one-way roads for driving birders (maximum speed 10 mph) and two observation decks. The last time we visited a similar place was at the sewege ponds at Sharm-el-Sheikh in Egypt, but that place was not set up for birding at all. We expected something similar, but Viera Wetlands was very different and more like a nature reserve than a government facility.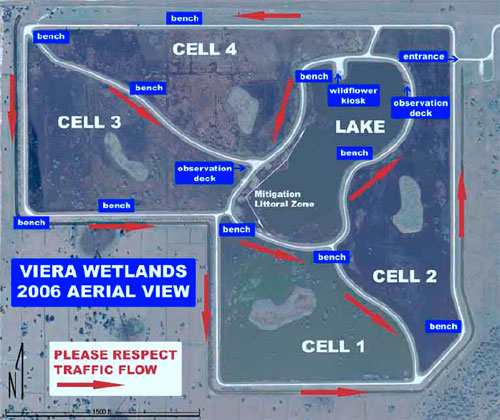 Map of Viera wetlands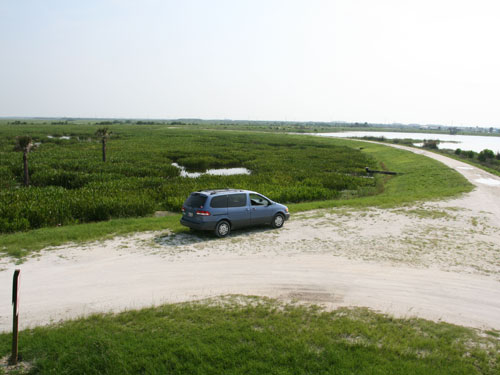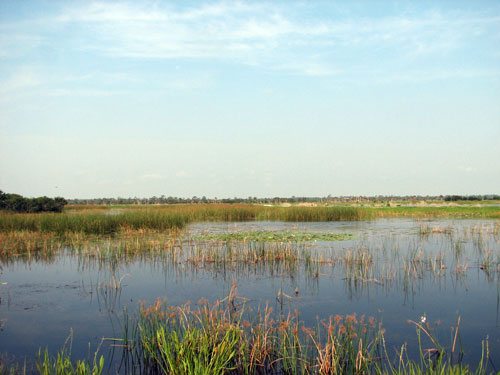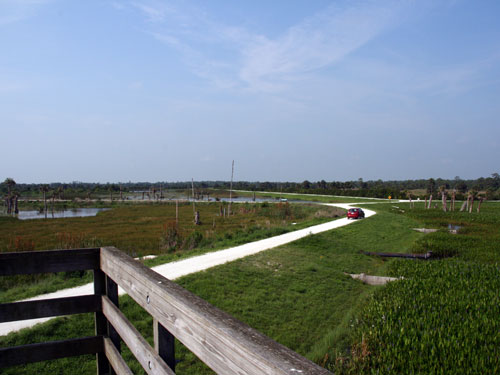 We made the mistake on our first visit to keep the windows open the entire time, resulting in literally hundreds of mosquitoes getting in our car. Later that day we let out at least 50 of them while driving by opening our window occassionally. We thought we had gotten rid of most of them, but after leaving our car parked somewhere for 15 minutes, baking in the sun, we found the dashboard, our seats and the floor were covered in dead ones. So on our second visit to the wetlands we decided to keep the windows closed and only open our doors once in a while to get out or take pictures. This was a much better experience.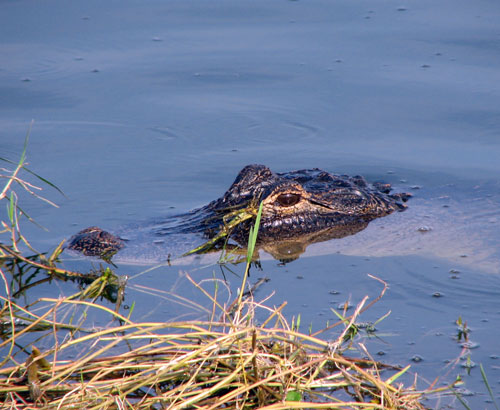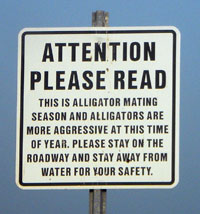 A sign at the entrance read: This is alligator mating season and alligators are more aggressive at this time of year. Please stay on the roadway and stay away from water for your safety, but they were quite calm and not so loud.
Among the many birds we saw were Summer Tanager, Glossy Ibis, Sandhill Crane, Pied-billed Grebe, Black-bellied Whistling Duck, Green Heron, Loggerhead Shrike, Anhinga, Osprey, Limpkin, Least Bittern, Crested Caracar, Green Heron, Roseate Spoonbill and Tricolored Heron.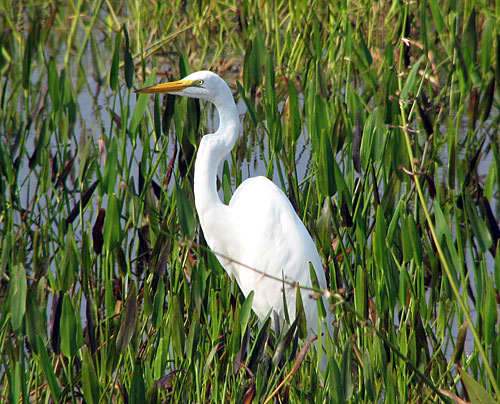 Great Egret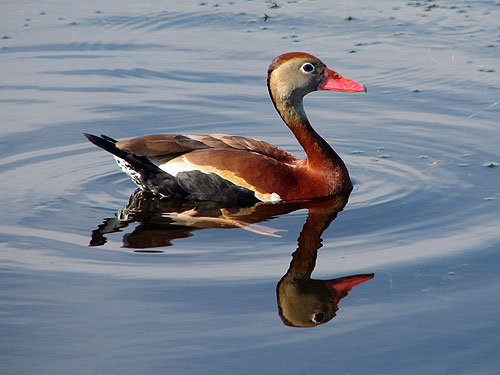 Black-bellied Whistling Duck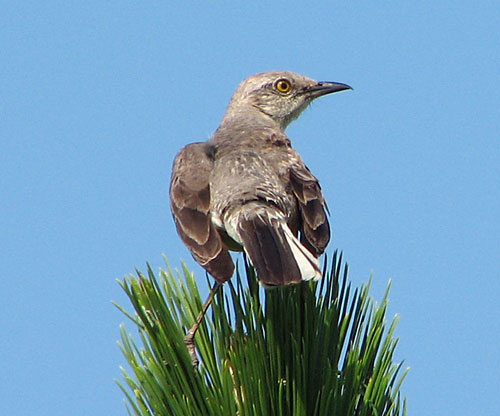 Northern Mockingbird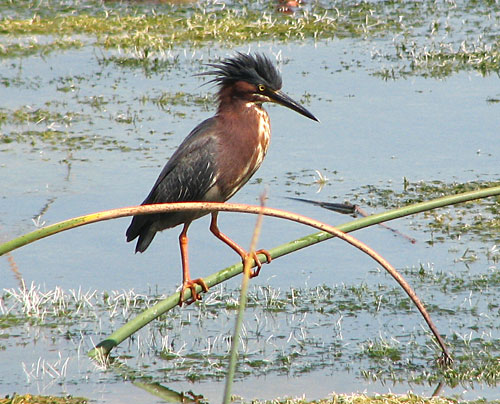 Green Heron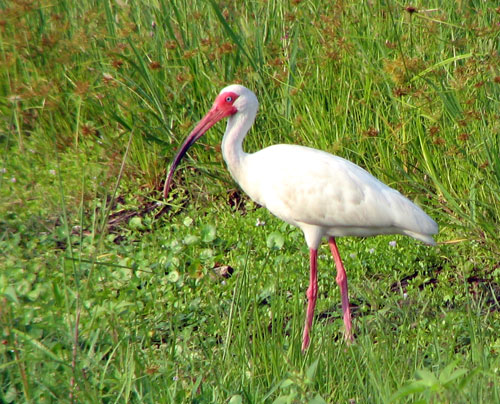 White Ibis
By far the coolest bird we saw was this Crested Caracara, the symbol of the wetlands and our best lifer of the trip. Both days we were there the Caracara was perched on the same tree.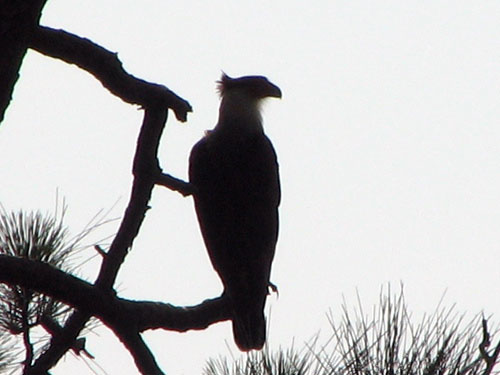 Crested Caracara
Unfortunately the bird was back lit both times we were there, so we didn't get a great look at him. Here's a much better picture:
Crested Caracara by Shadow Hunter