Posted on October 31st 2010 by Arthur in
Birds
,
Nature
We got up early this morning to drive 2 hours west before sunrise to try and see the Whooping Cranes that are flying south with Operation Migration. They had been grounded for 12 days at their 5th stop, in Winnebago County Illinois, due to unfavorable weather. They never know if they'll be able to take off until the very last minute, but we were lucky and got to see them today! 🙂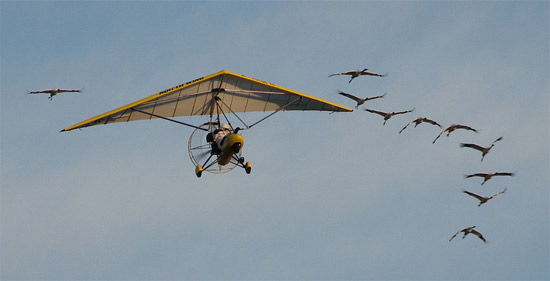 Whooping Cranes are North America's tallest birds and they are highly endangered. In the 1940s there were just 15 birds left! Thanks to several conservation projects, there are now believed to be over 400 in the wild, but there are still years of work ahead before the bird can be removed from the endangered species list.
Photo by FlappinMothra on Flickr
Since 2001, the non-profit organization Operation Migration has worked to reintroduce these beautiful birds by raising young cranes in isolation at their center in Wisconsin, and then flying them down to Florida with an ultralight aircraft in an effort to establish a new flyway east of the Mississippi River.
The birds are guided for 1,285 miles through seven states, from Necedah National Wildlife Refuge in Wisconsin to Chassahowitzka NWR in Florida. The long journey takes several months (see migration map). This year, 11 birds left Necedah National Wildlife Refuge on October 10th. Each morning the crew evaluates the weather as they can only fly if there is not too much wind. Until this morning they had been at the same place in northern Illinois for 12 days, due to the bad weather these last couple of weeks.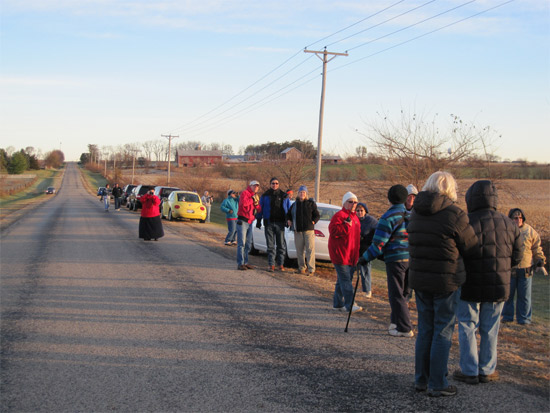 Spectators from about a dozen cars had gathered this morning on a road where the cranes would fly over shortly after takeoff. We could not see the camp from where we were standing, but they were not far. Around 7:30am two members of Operation Migration arrived to inform us about what was going on. They had radios so we could listen in on what the pilots were saying. Two of the aircraft went up first to check the wind at higher elevations. We saw them flying over the treetops.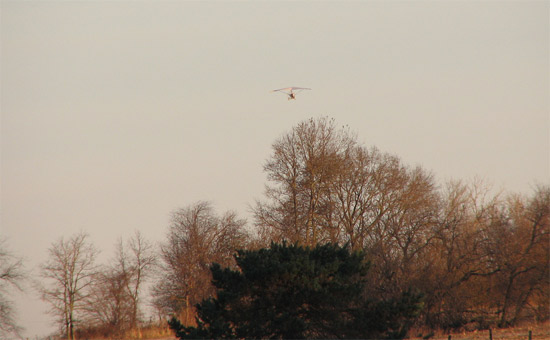 After a few minutes we learned that they were going to try it (yah!). The two ultralights started to circle around in the distance. We could not see the birds, but after a short while we saw one of the planes emerge with the cranes following behind.
In the above picture you can see lead pilot Joe Duff is wearing a white suit
from top to toe, so that the birds don't get used to humans.
There were ten cranes following the ultralight (an eleventh stayed behind and had to be transported in a crate). Nine on the left and one on the right. We read in the Field Journal on the organization's website that later the birds divided perfectly with five on each wing. It was a beautiful sight and we were very lucky that we got to see them take off on our first trip out there.
Here's a short video of what we saw: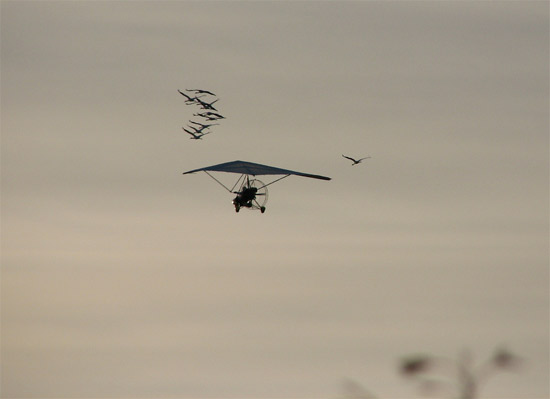 If you'd like to support Operation Migration and the wonderful work that they do, you can make a donation here.
The following pictures are from last year's migration. More can be found in Operation Migration's Flickr photostream: